Review
Open Access
Open Peer Review
This article has Open Peer Review reports available.
Image processing for optical mapping
Received: 19 February 2015
Accepted: 5 November 2015
Published: 26 November 2015
Abstract
Optical Mapping is an established single-molecule, whole-genome analysis system, which has been used to gain a comprehensive understanding of genomic structure and to study structural variation of complex genomes. A critical component of Optical Mapping system is the image processing module, which extracts single molecule restriction maps from image datasets of immobilized, restriction digested and fluorescently stained large DNA molecules. In this review, we describe robust and efficient image processing techniques to process these massive datasets and extract accurate restriction maps in the presence of noise, ambiguity and confounding artifacts. We also highlight a few applications of the Optical Mapping system.
Keywords
Optical mappingImage processingSkeletonizationGroupingTilingShortest pathIntegrated fluorescence intensity
Background
Optical Mapping [1–3] is a high-throughput, single-molecule system that generates ordered restriction maps (also called Rmaps) from high molecular weight genomic DNA molecules, ranging in size from 300 kilobases to a few megabases. The Rmaps are then used for the construction of genome-wide physical restriction maps using computational approaches, which provide insights into long range genome structure and genome variation. Optical mapping is made possible by the integration of many diverse components that draw from surface chemistry, microfluidics, fluorescence microscopy, image processing and other computational approaches. The physical maps generated using Optical Mapping have served as scaffolds to guide and/or validate DNA sequencing based genome assemblies [4–7]. More recently, Optical Mapping, because of its ability to resolve repeat rich and other low complexity genomic loci, has been used to identify structural polymorphisms in normal human genomes [3] and structural variants in disease-risk [8] and cancer genomes [9, 10].
An outline of Optical Mapping is provided in Fig.
1
. Here, we provide a brief description of the system. The first step in Optical Mapping is DNA extraction. Because high molecular weight DNA is required as a substrate, very gentle DNA extraction methods like liquid lysis of cell suspensions or preparation of DNA inserts [
11
] are commonly used. Next, DNA is presented on glass cover slips that are acid cleaned and derivatized with a mixture of aminosilanes. The derivatization process imparts a positive charge to glass surfaces, which allows DNA immobilization [
5
,
12
–
14
]. DNA presentation is accomplished
via
capillary flow in microchannels, which are formed at the interface of derivatized glass surfaces adhered to a microfluidic device fabricated using soft lithography approaches [
2
]. Use of a microfluidic device allows for massively-parallel, high throughput deposition of single DNA molecules on derivatized glass surfaces. DNA presentation accomplishes two goals: elongation and immobilization. DNA elongation allows the imaging of molecular cleavage events once intact DNA molecules are digested using restriction endonucleases, and is an important requirement for generation of Rmaps. DNA immobilization serves to fix DNA in place, which is important to ensure that i) the linear order of DNA fragments from each DNA molecule is preserved; ii) the digested molecules can be imaged easily; and iii) the fragments generated after restriction digestion do not desorb and get lost before imaging. Both these steps, elongation and immobilization, are carefully controlled to ensure that the biochemical action of restriction endonucleases is preserved and that the DNA molecules are optimally stretched out to be able to generate useful Rmap data.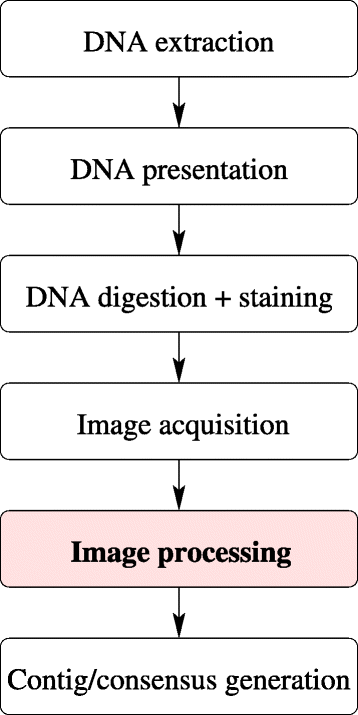 The elongated and immobilized DNA molecules are digested with a restriction endonuclease of choice. Upon digestion, the double-stranded DNA digestion sites present as gaps that are formed between fragments due to DNA relaxation at cut ends [1, 12]. Next, digested DNA is stained using intercalating fluorochrome YOYO-1 [13] and imaged using automated laser-illuminated epifluorescence microscopy systems [2, 15–17]. Custom in-house software allows automated imaging of an entire array of microchannels with very little setup time. Once the images have been collected, they are automatically processed using custom image processing software to generate Rmaps, which are obtained as ordered series of fragment sizes derived from digested single DNA molecules [2, 3]. Once a large dataset of Rmaps has been collected using the Optical Mapping system, a computational pipeline that uses Bayesian inference approaches [18] and cluster computing is used to assemble the Rmaps into genome-wide contigs and generate genome-wide consensus maps [3, 19–21].
The description above highlights that the image processing module acts as a filter/bridge within the Optical Mapping pipeline that extracts the useful essence, the Rmaps, from massive optical microscopy datasets. Image processing is a critical contributor to successful implementation of Optical Mapping and works in synchrony with the other components of the system. The image processing module is the central focus of this manuscript.
Applications
Fully automated image processing allowed for rapid analysis of DNA molecules deposited in microchannels, which helped us understand key physical characteristics of the deposition process (such as DNA elongation and deposition density along the microchannel) and design optimal operating parameters for Optical Mapping [2]. This enabled the generation of massive Rmap datasets, which facilitated high resolution analysis of genomes of various sizes.
Rmap assemblies provide long range structural information about the genome. Consequently, they generate a scaffold that can be used to verify or guide DNA sequencing based genome assemblies. Optical Mapping was first used to verify sequencing based chromosomal [27] and genome assemblies [4]. With an increase in throughput, it was used to generate physical assemblies to aid sequencing based genome assembly for many microbial genomes. These include some bacterial genomes like Deinococcus radiodurans [4], Escherichia coli O157:H7 [5], Yersinia pestis [28] and Rhodobacter sphaeroides 2.4.1 [29]. By comparing different bacterial strains to identify genomic differences, Optical Mapping was used for comparative genomics [17]. More recently, plant genomes like rice [6] and maize [7, 30] and normal [3] and cancer [9] human genomes have been mapped. These assemblies have helped in validation of sequencing based assemblies and have also provided high-resolution scaffolds for gap closure and for correcting sequencing based assembly errors [31].
In the past decade, advances in genome analysis methods have highlighted the widespread presence of structural changes in normal and disease-affected human genomes [32–34]. However, these variants have been found to be selectively enriched in segmentally duplicated and other low complexity regions of the genome [32, 35]. Because of the inability of short-read DNA sequencing data to uniquely differentiate these regions, true positives are difficult to discern in these regions. Additionally, false negative rates as high as 37 % have been reported [36], which could still be an underestimate. It is because of these reasons that different sequencing based structural variation calling algorithms show very little overlap [37]. Optical Mapping of human genomes has uncovered a wide array of structural variation in these genomes. Teague et al. identified thousands of structural polymorphisms, ranging in size from a few kilobases to megabases in a complete hydatidiform mole and three lymphoblast-derived cell lines [3]. The authors also identified many structural variants that could not be detected by other genomic analysis platforms. Later, Ray et al. studied tumor genomes from two oligodendroglioma patient samples, the first use of Optical Mapping to study a solid tumor genome, to reveal many somatic structural variants and copy number heterogeneity [9]. More recently, we integrated long-range structural variation analysis from Optical Mapping and short range variation analysis from DNA sequencing data to comprehensively characterize variation in a multiple myeloma genome at different stages of disease progression [10].
Many other genome analysis platforms have been developed in the recent years to understand long range genome structure and structural variation. BioNano Genomics Irys technology has been used to identify structural variants in human genomes [24]. Pacific Biosciences SMRT sequencing [38] and Oxford Nanopore Technologies sequencing [39] have increased the average read length from hundreds of bases to tens of kilobases. Although affected by significantly higher error rates when compared to their short read sequencing counterparts, these platforms can provide long-range sequencing information about genomes. Moving forward, developing computational methods and pipelines that integrate results from mapping- and sequencing-based platforms, or better, leverage raw datasets to improve sequencing pipelines, will help us learn more about whole genomes.
Conclusions
The successful implementation of the automated image processing techniques described in this review has allowed the high resolution analysis of many complex genomes. It has also enabled the study of the physical characteristics of DNA deposition using microfuidic systems. In addition variants of the image processing techiques described in this review have been incorporated into the Nanocoding system, a higher resolution and more accurate successor to Optical Mapping [23, 26].
Declarations
Acknowledgements
We would like to thank Prof. David C. Schwartz for his invaluable insights, support and guidance during the writing of this review. We would also like to acknowledge Konstantinos Potamousis, Michael Place, Steve Goldstein, Shiguo Zhou and Michael Bechner for helpful discussions and feedback. PR and AG would like to thank NHGRI for support (R01HG000225).
Open Access This article is distributed under the terms of the Creative Commons Attribution 4.0 International License(http://creativecommons.org/licenses/by/4.0/), which permits unrestricted use, distribution, and reproduction in any medium, provided you give appropriate credit to the original author(s) and the source, provide a link to the Creative Commons license, and indicate if changes were made. The Creative Commons Public Domain Dedication waiver(http://creativecommons.org/publicdomain/zero/1.0/) applies to the data made available in this article, unless otherwise stated.
Authors' Affiliations
(1)
Laboratory of Molecular and Computational Genomics, Department of Chemistry, Laboratory of Genetics and Biotechnology Center, University of Wisconsin, Madison, USA
Copyright
© Ravindran and Gupta. 2015