Research
Open Access
Open Peer Review
This article has Open Peer Review reports available.
Galaxy tools to study genome diversity
Received: 24 July 2013
Accepted: 12 December 2013
Published: 30 December 2013
Abstract
Background
Intra-species genetic variation can be used to investigate population structure, selection, and gene flow in non-model vertebrates; and due to the plummeting costs for genome sequencing, it is now possible for small labs to obtain full-genome variation data from their species of interest. However, those labs may not have easy access to, and familiarity with, computational tools to analyze those data.
Results
We have created a suite of tools for the Galaxy web server aimed at handling nucleotide and amino-acid polymorphisms discovered by full-genome sequencing of several individuals of the same species, or using a SNP genotyping microarray. In addition to providing user-friendly tools, a main goal is to make published analyses reproducible. While most of the examples discussed in this paper deal with nuclear-genome diversity in non-human vertebrates, we also illustrate the application of the tools to fungal genomes, human biomedical data, and mitochondrial sequences.
Conclusions
This project illustrates that a small group can design, implement, test, document, and distribute a Galaxy tool collection to meet the needs of a particular community of biologists.
Keywords
Genome analysisSpecies conservationPopulation structureSelective sweepsAdmixture
Background
A remarkable decrease in the cost of high-throughput sequencing has prompted many groups to address their biological questions by applying this technology. However, as is widely recognized, data analysis remains challenging for all but the largest and most experienced groups. Frequently, one of the challenges in this analysis is identifying the polymorphisms within species from the vast amount of raw data produced by the sequencing instruments, which requires computational resources and expertise not always available to a small biology lab. Fortunately, this and other data-processing steps are becoming more affordable as technology evolves.
Once the gigabases of sequence data have been filtered to, say, a few million intra-species DNA polymorphisms and a few thousand amino-acid variants, the computational requirements for their exploration are often relatively modest. Nevertheless, the analyses performed on the polymorphisms frequently require the expertise of the lab that originated and processed the biological samples, and it is burdensome for a small group to assemble and master the required computational tools. We have written a set of tools that run on the Galaxy web server to perform such analyses. They have an emphasis on understanding the population structure of the focus species and/or developing testable hypotheses about phenotypic consequences of genetic polymorphisms. In addition to avoiding the need for research groups to download and install all relevant software, a major benefit of using Galaxy for these, or indeed other, analyses is that reproducibility of published results is often enhanced. Moreover, these tools can be applied to polymorphisms identified by technologies other than sequencing, such as a SNP genotyping microarray.
The goal of this paper is to describe our Galaxy tools and illustrate their effectiveness. We begin with an overview of the new tools, after which we sketch how they were applied in a recently published manuscript, illustrate some of their capabilities, and compare their results with results published by other groups. These case-studies are listed in Table
1
. Finally, we mention some lessons learned in the course of creating this Galaxy toolset.
Table 1
Examples discussed in this paper
| Species | Purpose of the case study |
| --- | --- |
| 1. Aye-aye | Tutorial on the new Galaxy tools |
| 2. Chicken | Compare our selective-sweep analysis with published results |
| 3. Canids | Compare our admixture analysis with published results |
| 4. Human | Compare our admixture approach to other methods |
| 5. Pigs | Illustrate the interplay among admixture and other analyses |
| 6. Chytrid fungus | Apply our tools to non-vertebrates |
| 7. Human | Apply our tools to biomedical data |
| 8. Colugo, cave bear | Apply our tools to mitochondrial data |
Data description
Our tools work on polymorphism data in tabular formats that are appropriate for loading into the Galaxy web server [1–4]. The files for amino-acid variants and genes are basically just tab-delimited tables as required by Galaxy's rich arsenal of table-manipulation tools. However, our single nucleotide variant (SNV) tables (which covers both intra-species SNPs and inter-species differences) have particular formats required by many of the tools that we have recently added to Galaxy, and a little familiarity with those formats is assumed in some of our later discussions.
Our most flexible format for SNV tables, called gd_snp ("gd" for Genome Diversity), has one row per SNV, and designated columns for the chromosome (and/or scaffold) name and position, the reference (or consensus) nucleotide, the variant nucleotide, and a quality value. For each individual (or sample) there are four columns, giving (1) the number of reads with the reference nucleotide, (2) the number of reads with the variant, (3) a genotype (0, 1, or 2 occurrences of the reference nucleotide; –1 = no genotype) and (4) a quality value for the genotype. A description of how columns are to be interpreted is specified in header lines, which can be prepared using one of our tools (#1 and 2 in the list below). Among other uses, this information lets Galaxy present the user with a simple interface for defining a set of individuals (Figure
1
). In addition, there can be other columns, either supplied in the original table or generated by running Galaxy tools (e.g., each SNV's
F
ST
value relative to two specified populations).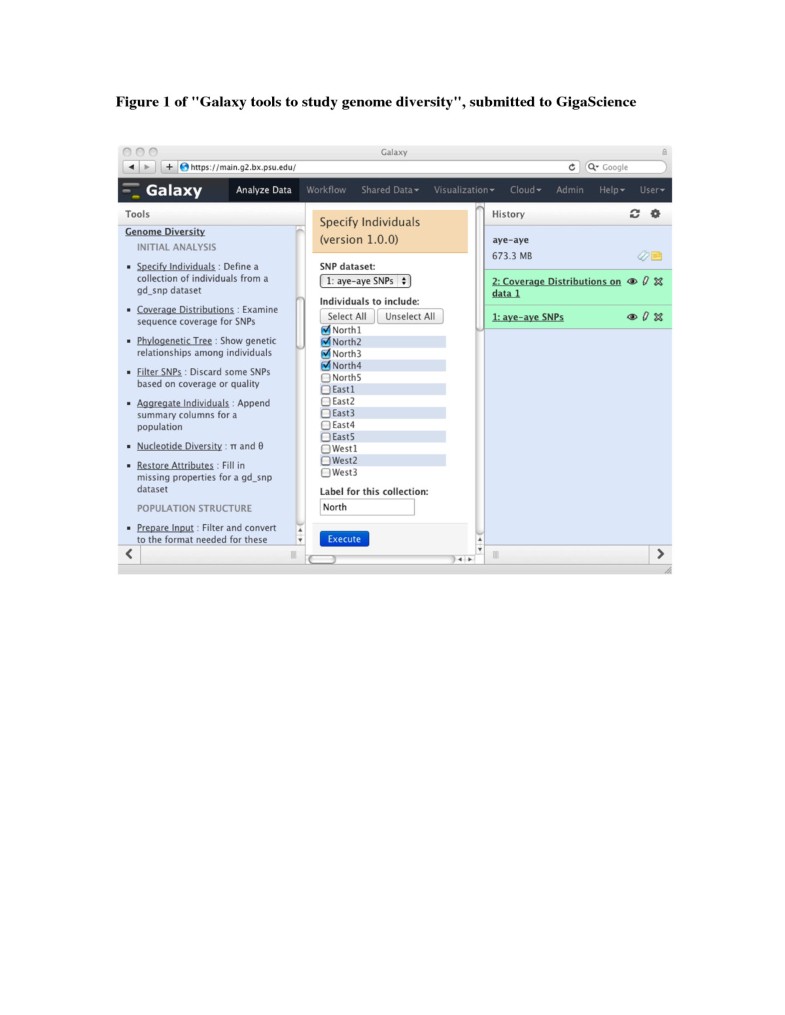 Galaxy also supports a simpler format, called gd_genotype, which differs from gd_snp by having just a single column per individual, giving the genotype. The overall quality value (column 5 for gd_snp format) can also be omitted and/or other columns can be included. We provide a Galaxy tool to facilitate the conversion of VCF files and three commonly used population genetics formats (i.e., FSTAT, Genepop, and CSV, see #2 in the tool list below). VCF files that include the field's allelic depth, genotype quality and genotype ("AD", "GQ", and "GT" respectively in the "FORMAT" field) can be converted into a gd_snp file. We also provide a Galaxy tool to convert gd_snp and gd_genotype tables into a form suitable for submission to dbSNP.
The following is a list of the tools we have made available on Galaxy, under the heading "Genome Diversity". This is the status as of November 2013; we expect that the list will grow over time.
A.

Basic Analyses

1.

Make File: Create a gd_snp or gd_genotype file

2.

Convert: Change CSV, FSTAT, Genepop or VCF to either gd_snp or gd_genotype

3.

Specify Individuals: Define a collection of individuals from a SNV dataset

4.

Coverage Distributions: Examine sequence coverage for SNVs

5.

Phylogenetic Tree: Build a distance-based tree.

6.

Filter SNPs: Discard some SNVs based on coverage or quality

7.

Aggregate Individuals: Append summary columns for a population

8.

Nucleotide Diversity: π and θ

9.

Restore Attributes: Update properties of a SNV table

10.

SNV table to VCF: For submission to dbSNP

B.

Population Structure

11.

Prepare Input: Filter and convert to the format needed for tools #12-14

12.

PCA: Principal Component Analysis of genotype data

13.

Population Complexity: Evaluate possible numbers of ancestral populations

14.

Ancestry: Characterize ancestries with respect to inferred ancestral populations

15.

Admixture: Map genomic intervals resembling specified source populations

C.

F ST and Selective Sweeps

16.

Overall F ST : Estimate the relative fixation index between two populations

17.

Per-SNP F ST : Compute a fixation index score for each SNV

18.

Remarkable Intervals: Find high-scoring runs of SNVs

D.

Kinship

19.

Close relatives: Discover familial relationships

20.

Pairs sequenced: Offspring estimated heterozygosity of sequenced pairs

21.

Founders sequenced: Estimated heterozygosity from a pedigree with sequenced founders

22.

Matings: Assignment of optimal breeding pairs

23.

Inbreeding and kinship: Analyze the pedigree without genomic data

E.

KEGG and GO

24.

Get Pathways: Look up KEGG pathways for given Ensembl transcripts

25.

Rank Pathways: Assess the impact of gene sets on pathways

26.

Pathway Image: Draw a KEGG pathway, highlighting specified gene modules

27.

Rank Terms: Assess the enrichment of gene sets on Gene Ontology terms

28.

Cluster KEGG: Group gene categories by shared genes

F.

Design Genotyping Studies

29.

Sample SNPs: Select a specified number of uniformly spaced SNVs

30.

Differential Cleavage: Select SNVs differentially cut by specified restriction enzymes

31.

Flanking Sequence: Fetch DNA sequence for intervals surrounding the given SNVs

32.

Pick Primers: Find suitable PCR primers for SNVs

G.

Mitochondria

33.

Draw variants: show positions of SNVs and unsequenced intervals

34.

Reorder individuals: exchange rows in the picture created by tool #33

35.

Diversity: pi, allowing for unsequenced intervals

36.

Phylip: prepare data for phylogenetic analysis by tool #37

37.

RAxML: maximum-likelihood phylogenetic tree
Many of these capabilities are familiar to biologists who analyze genome sequences or genotype genetic markers in population samples. However, some detailed understanding of tools #17 and #18 is assumed in our subsequent discussions. First, the F ST, or "fixation index", assigns a value to each SNV based on the allele-frequency difference between two populations. Tool #17 (as well as #16) lets the user choose among the original definition of F ST[5] and two "unbiased estimates" of it [6, 7]. The Reich formulation [7] has been shown to work well with small population sizes [8], and we use it exclusively unless stated otherwise.
Second, genomic intervals having particular characteristics, such as showing signs of a "selective sweep", can be identified with the use of multi-individual sequence data. These sweeps are caused when an advantageous allele and neighboring linked variants increase their frequency in a population. Large F ST values are one potential signature of a past selective sweep [9], though care must be taken because large F ST values can also be created by genetic drift, demographic effects, or admixture [10–12]. We currently do not provide a tool for the traditional approach of scanning for unusual genomic intervals using a fixed "window" size, because in our opinion it would involve an undesirable number of user-selected values and options (e.g., specifying the window size, the amount of overlap between successive windows, the treatment of overlapping "significant" windows, discarding windows containing too few SNVs, etc.). Instead, we provide a tool (#18) that works with any chosen numerical column in a SNV table, for example, the F ST relative to two populations or a value measuring homozygosity within a population. This tool has a single "tuning parameter", which we call the "shift value", set by the user. The tool subtracts this number from each SNV score, and then finds "maximal" intervals where the sum of shifted scores cannot be increased by adding or subtracting SNVs at the ends of the intervals. For instance, if the column in question contains F ST values, the user could set the shift value at, say, the 90th percentile, so that 90% of the shifted values would be negative, and hence the SNVs in any high-scoring interval on average lie in the top 10%. In general, raising the shift value will lead to identification of fewer and shorter intervals. Statistical significance is estimated by a randomization strategy, in which the shifted SNV scores are shuffled some specified number of times, the highest-scoring interval found in each case, and the highest observed score is taken as the cutoff; this provides an empirical p-value, assuming that the scores are independent.
Another tool implementing a new algorithm estimates admixture in each of a set of individuals relative to two or three assumed source (often called "ancestral") populations (tool #15). Roughly the same capability is available from other tools, such as SABER [13], HAPMIX [14] and PCAdmix [15]. However, we implemented a simpler approach for data sets that have inadequate numbers of individuals, inadequate accuracy of genotype calls, or uncertainty about basic species parameters (e.g., mutation rate and extent of linkage disequilibrium) to justify use of complex evolutionary models. This has the advantages of much shorter execution times and simplicity of use. Like tool #18, there is a single "tuning parameter", which we call the "genotype switch penalty".
With two source populations, the tool's goal is to partition every autosome of an admixed individual into three inferred "interval genotypes": (1) both chromosomes from the first source population, (2) both chromosomes from the second source population, or (3) one chromosome from each source population. (There are six interval genotypes in the case of three source populations). Suppose for a moment that a genomic interval is entirely in one of those categories, and we want to determine which interval genotype is most likely. For each SNP, we are given the observed genotype for the potentially admixed individual and can estimate the reference allele frequency in each source population. From those data, we can compute the probability of the observed sequence of SNV genotypes being produced from each of the interval genotypes, preferring the scenario with highest probability. The remaining issue concerns the choice of when to switch from one interval genotype to another, which is solved efficiently with a technique called "dynamic programming", a relative of a partitioning method used with hidden Markov models. As the program scans along a chromosome, a larger genotype switch penalty makes it more difficult to switch between inferred interval genotypes, so the autosomes are partitioned into fewer, but longer runs of constant genotype.
We use this capability for exploratory data analysis, where we experiment with various thresholds on minimal spacing between SNVs (to increase independence), minimal F ST between the source populations (to identify "ancestry informative markers"), and switch penalty, to reach conclusions that are robust to changes in analysis parameters.
In the following paragraphs we turn to a set of examples aimed at providing the reader with a clearer understanding of the range of capabilities of the Galaxy tools. Most of them deal with analyzing variation in the nuclear genome of non-model vertebrates, but one example studies polymorphisms in the fungus Batrachochytrium dendrobatidis, two examples consider human data, including differences between sequences from normal and LGL-leukemia diseased cells of the same individual, and one study of which, deals with mitochondrial sequence data.
Discussion
Regardless of how the polymorphism data are produced, using the Galaxy system to perform the analyses and to make the results available, can greatly facilitate reproducibility of the study by other groups, as well as apple-to-apple comparisons among data from different species. The published chicken sequence data described above provides a case in point – this study [31] sequenced pools, each containing DNA from multiple individuals, and so knowledge of numbers of reads corresponding to each allele, rather than a single genotype, was needed for each sample at each SNV. The authors attempted to provide relevant information in their dbSNP entries with a comment line telling in which samples the alleles were observed. However, they were aware that this information is not only difficult to extract from dbSNP, but it is also not sufficiently rich to allow their analyses to be reproduced; hence, the authors have contributed the appropriate data to Galaxy. More generally, having this and similar data sets on Galaxy substantially relieves the difficulties frequently encountered when attempting to reproduce published claims [59]. Moreover, reproducing published results is a prerequisite for exploring their resilience to changes in the parameters controlling the analysis; it is well-known that many computational tools produce output that is quite sensitive to input parameters, and progress in science is facilitated if readers can readily explore the brittleness of published claims.
The tools described in this paper were produced by members of a small genomics lab, an approach that had the benefit of relatively quick development, but drawbacks in terms of getting other groups to contribute their data. Being able to compare datasets with each other is tremendously valuable. For instance, as described above, we observed an average F ST of 0.169 between the North and East populations of aye-aye, but without corresponding numbers from other data sets, it is unclear whether this value should be considered large or small. It would have been very helpful to have datasets provided by other groups, but thus far the only gd_snp and gd_genotype data sets are ones that we created or requested from the originating group. Unfortunately, biology journals are often lax about enforcing requirements that authors make their data readily available, and we have been unable to obtain certain requested datasets. Our belief is that if the toolset had been designed and contributed by a wider community, then those groups would be motivated to make their data available in Galaxy.
The development of Galaxy tools for the kinds of data discussed in this paper has only just begun. While short insertion/deletions are handled much like nucleotide substitutions, larger scale mutations, such as inversions, are not currently handled by our Galaxy tools, despite the fact that they are believed to sometimes directly influence phenotypic differences between populations [60, 61]. However, proposed tools need to be carefully evaluated. Importantly, high computational demands are often a limiting factor; examples of tools whose extensive run times make them less desirable for incorporation into Galaxy include PSMC [62] for estimating ancestral population sizes, CoalHMM [63] for estimating population split times, and a tool for identifying a set of individuals that is an "optimal" choice for founding a captive-breeding population or a relocation effort [64]. Still, we hope the reader has become convinced that the resources we provide constitute a worthwhile addition to software for genome analysis.
Methods
Putting tools on Galaxy
Our analysis tools were integrated into the Galaxy web-based platform [1–4]. We followed the documentation [65] to install our own Galaxy instance. This instance was used as a test-bed for integrating our analysis tools. A tool definition file was written for each analysis tool, and all of these tool definition files were added to the tool-registry file as described on the Galaxy Wiki [66]. We added new data types [67] to our Galaxy instance to support our SNV table format. After verifying that all of our analysis tools were working as expected, we created a Galaxy Tool Shed [68] repository to share our tools with the Galaxy community by following the documentation [69], producing the final set of Genome Diversity tools [70].
Tools for analyzing SNV tables
Phylogenetic trees can be determined when sequence data come from individuals (as opposed to pooled samples). For each pair of individuals, the "informative" SNVs having a user-specified read-coverage are used, and the distance between the two individuals is the number of genotypic differences divided by the number of informative sites. A neighbor-joining tree is constructed from these differences by QuickTree [71]. The output includes a viewable tree and formatted inputs to one of several popular tree-drawing tools. For small data sets, such as for a modest number of mitochondrial SNPs, we let users run RAxML [72]. Principal component analysis (tool #12) is preformed by smartpca[73], the ancestry analysis (#14) uses admixture[38, 39] and the "Remarkable Intervals" tool implements a published algorithm [74], Figure 6. PCR primer sequences are computed off-line by Primer3 [75]. Determining an optimal set of breeding pairs (toll #22) is an instance of a classic computational problem known in the Operations Research literature as the "assignment problem", and called "weighted optimal bipartite matching" by computer scientists; it can be solved efficiently [76].
The admixture tool (#15) uses allele frequencies in the source populations to estimate the probability that a genotype observed at one SNV in a potentially admixed individual would be generated by randomly sampling chromosomes in each of the three possible combinations (six combinations if there are three source populations). For instance, if the frequencies of the reference (or consensus) allele in the two source populations are p and q, then the probabilities of the admixed individual being homozygous for the reference allele are p 2 if both chromosomes come from the first source population, q 2 if both are from the second source population, and p × q if the individual has one chromosome from each source. The logarithms of these values are added along a chromosomal segment to estimate the (logarithm of the) probability that the sequence of genotypes along the segment would be produced. Logarithms are used so that values can be added instead of multiplied and to forestall underflow in computer arithmetic. A dynamic programming algorithm is used to select chromosomal positions where the source of the admixed segment is switched (e.g., from homozygous in the first source population to heterozygous).
KEGG and Gene Ontology
We implemented a set of tools to evaluate the possible effect of mutations on phenotypic differences. The first group of tools assesses the over-representation of input genes in phenolic categories (i.e., GO terms and KEGG pathways), and the second uses network metrics to calculate the impact of these genes in a given phenotype (i.e., KEGG pathways).
GOs are a broadly used category of gene annotations that describe their functions through the use of domain-specific ontologies [77]. Each gene is associated to one or more GO terms, and in turn, each GO term can be associated to one or more genes. Our set of programs includes the Rank Terms tool (#27) to determine the enrichment of a gene list (i.e., mutated genes) in GO terms. To do so, each gene is associated to a GO term following the Ensembl annotation [78]. Further, the probability of GO term enrichment and depletion among the genes in the input list is calculated with a two-tailed Fisher exact test, as suggested [79]. The tool returns a table that ranks the GO terms based on the percentage of genes in an input dataset (out of the total in each category in a background list) and their enrichment/depletion probability.
Network-based approaches have been recently introduced with promising results to capture the intricate relation of genes, regulatory elements and phenotypes [80, 81]. The Rank Pathways tool (#25) is designed to study phenotypes as networks. This tool takes, as input, the set of metabolic pathways and biological processes in the KEGG database [82, 83] and ranks them based on two criteria. The first criterion returns a table that ranks the KEGG pathway based on the percentage of genes in an input dataset (out of the total in each pathway) and their enrichment/depletion probability (calculated by a two-tailed Fisher exact test).
The second ranking criterion ranks KEGG pathways based on the change in length and number of paths connecting sources and sinks between pathways that exclude or include the nodes representing the genes in an input list. Sources are all the nodes representing the initial reactants/products in the pathway. Sinks are all the nodes representing the final reactants/products in the pathway. In detail, the mean length and number of paths between sources and sinks is calculated for each pathway including and excluding the genes in the input dataset; further, the change in both parameters is estimated and ranked [84, 85]. Gene names and networks are obtained from each KGML pathway file from the KEGG database of the reference species.
In addition, the Get Pathways tool (#24) maps KEGG genes and pathways to Ensembl codes, while the Pathway Image tool (#26) plots KEGG pathways highlighting genes of interest respectively (e.g., Figure 3). In more detail, the second tool takes as input datasets with KEGG gene codes and pathways, links the genes present in the input table to specific modules (i.e., a collection of functional units) and returns an image of a KEGG pathway highlighting (in red) the modules representing genes in the input dataset.
Chicken
The published SNVs [31] were kindly provided to us by Carl-Johan Rubin and Leif Andersson. Importantly, the sequences were from pooled samples of birds, so the numbers of reads observed for each allele in each sample (rather than just a "genotype" for the sample) was required to reproduce their results. We created a Galaxy gd_snp table. For each sample, in addition to the two allele counts, the SNV had a "genotype" that we extracted from comments in the dbSNP records listing the samples where each allele was observed, which we included to permit attempts to reproduce some of the published [31] using just the information in dbSNP. (We were unable to accomplish this feat). Extracting that information required help from the dbSNP staff at NCBI. Since no quality values were available to us, we used the place-holder "–1" in columns 5, 9, 13-45. The data and a command "workflow" for the results described in this paper are available on Galaxy.
A southern African genome
Three methods were applied to detect admixtured haplotype blocks in a southern Bantu genome (ABT): PCAdmix [15], HAPMIX [14], and the Galaxy admixture tool. Applying those methods required population datasets of two or three putative ancestral populations in order to assign ancestries to each SNV or particular size of haplotype. We retrieved genotyping SNV datasets of various populations from two human variation projects, HGDP [86] and HapMap [87], and one publication [88]. We selected 419,974 SNVs that were common among the datasets, after filtering out multiple-allelic and possible "flipped" SNVs. For the estimation of ancestry of the Bantu individual, Khoisan, Bantu, Yoruba, and two non-African (CEU and CHB) populations were selected from the datasets. For the accuracy of analyses, we included only unrelated individuals and excluded outlier individuals, which were not clustered with the corresponding populations in the PCA analysis. The final dataset used in this study consisted of 419,974 SNVs from 481 individuals. Regarding ABT, we extracted the genotypes of the same SNV positions from the ABT genome sequences [37].
Pig
The table of porcine SNVs was contributed by Martien Groenen.
Chytrid fungus
We converted the table Bd_49.selectedSNPs.5.ACGT.10X.tab [47] to gd_genotype format. From the same website we obtained a mapping of gene names to GO categories, and lists of genes with dN > dS, with LOH, and with CNVs. We extracted gene annotations from the file [89].
Mitochondria
The coverage data for colugo were contributed by William Murphy.
Availability of supporting data
The data sets and tools sufficient to reproduce results described in this paper are available on the GigaGalaxy website [90]. The tools discussed here are available from the Galaxy website [1], under "Genome Diversity". Links to the materials and future examples will also be made available from a Galaxy page [91], along with documentation for using the tools [92]. Please send requests for other materials to webb@bx.psu.edu.
Abbreviations
AD:

All domestic (chickens)
AD:

also abbreviates "Allelic Depth" in VCF file
AIM:

Ancestry informative marker
Bp:

Base pair
CNV:

Copy Number Variation
gd:

Genome diversity
GO:

Gene ontology
GPL:

Global Panzootic Lineage
KEGG:

Kyoto Encyclopedia of Genes and Genomes
LOH:

Loss of Heterozygosity
LSBL:

Locus-specific branch length
PCA:

Principal components analysis
QTL:

Quantitative Trait Locus
SNP:

Single-nucleotide polymorphism
SNV:

Single-nucleotide variant
YNP:

Yellowstone National Park (wolves).
Declarations
Acknowledgements
We thank Andreanna Welsh and Charlotte Lindqvist for early testing of the Galaxy tools, Carl-Johan Rubin and Leif Andersson for graciously supplying the chicken data, and Martien Groenen for providing the pig data. The dbSNP on-line help-desk extracted the comments in the chicken SNP entries. Michael DeGiorgio discussed the interplay between admixture and identification of selective sweeps. Development of the Galaxy tools for analyzing SNVs from low-coverage sequence data was supported in part by NIH award 1 UL1 RR033184-01 to the Penn State Clinical and Translational Science Institute, with supplemental funding from a grant from the Pennsylvania Department of Health using Tobacco Commonwealth Universal Research Enhancement Funds. TLO and TPL were supported by NIH award CA 170334. Development of the tools to help guide captive-breeding programs (tools #19-#23) was supported by the Gordon and Betty Moore Foundation, and was helped by suggestions from Katherine Rall and Jon Ballou.
Authors' Affiliations
(1)
Center for Comparative Genomics and Bioinformatics, Pennsylvania State University, USA
(2)
Terreus Foundation, Hayward, USA
(3)
Penn State Hershey Cancer Institute, Hershey, USA
(4)
Department of Ecology and Evolutionary Biology, Princeton University, Princeton, USA
(5)
Department of Anthropology, Pennsylvania State University, University Park, USA
References
Galaxy.http://usegalaxy.org.
Giardine B, Riemer C, Hardison RC, Burhans R, Elnitski L, Shah P, Zhang Y, Blankenberg D, Albert I, Taylor J, Miller W, Kent WJ, Nekrutenko A: Galaxy: a platform for interactive large-scale genome analysis. Genome Res. 2005, 15: 1451-1455. 10.1101/gr.4086505.View ArticlePubMedPubMed CentralGoogle Scholar
Blankenberg D, Von Kuster G, Coraor N, Ananda G, Lazarus R, Mangan M, Nekrutenko A, Taylor J: Galaxy: a web-based genome analysis tool for experimentalists. Curr Protoc Mol Biol. 2010, 10: 1-21. Unit 19Google Scholar
Goecks J, Nekrutenko A, Taylor J, Galaxy Team: Galaxy: a comprehensive approach for supporting accessible, reproducible, and transparent computational research in the life sciences. Genome Biol. 2010, 11: R86-10.1186/gb-2010-11-8-r86.View ArticlePubMedPubMed CentralGoogle Scholar
Wright S: The genetical structure of populations. Ann Eugen. 1951, 15: 323-354.View ArticlePubMedGoogle Scholar
Weir BS, Cockerham CC: Estimating F-statistics for the analysis of population structure. Evolution. 1984, 38: 1358-1370. 10.2307/2408641.View ArticleGoogle Scholar
Reich D, Thangaraj K, Patterson N, Price AL: Singh: Reconstructing Indian population history. Nature. 2009, 461: 489-494. 10.1038/nature08365.View ArticlePubMedPubMed CentralGoogle Scholar
Willing EM, Dreyer C, van Oosterhout C: Estimates of genetic differentiation measured by F ST do not necessarily require large sample sizes when using many SNP markers. PLoS One. 2012, 7: e42649-10.1371/journal.pone.0042649.View ArticlePubMedPubMed CentralGoogle Scholar
Akey JM, Zhang G, Zhang K, Jin L, Shriver MD: Interrogating a high-density SNP map for signatures of natural selection. Genome Res. 2002, 12: 1805-1814. 10.1101/gr.631202.View ArticlePubMedPubMed CentralGoogle Scholar
Holsinger KE, Weir BS: Genetics in geographically structured populations: defining, estimating and interpreting F(ST). Nat Rev Genet. 2009, 10: 639-650. 10.1038/nrg2611.View ArticlePubMedPubMed CentralGoogle Scholar
Elhaik E: Empirical distributions of F(ST) from large-scale human polymorphism data. PLoS One. 2012, 7: e49837-10.1371/journal.pone.0049837.View ArticlePubMedPubMed CentralGoogle Scholar
Huerta-Sánchez E, Degiorgio M, Pagani L, Tarekegn A, Ekong R, Antao T, Cardona A, Montgomery HE, Cavalleri GL, Robbins PA, Weale ME, Bradman N, Bekele E, Kivisild T, Tyler-Smith C, Nielsen R: Genetic signatures reveal high-altitude adaptation in a set of Ethiopian populations. Mol Biol Evol. 2013, 30: 1877-1888. 10.1093/molbev/mst089.View ArticlePubMedPubMed CentralGoogle Scholar
Tang H, Coram M, Wang P, Zhu X, Risch N: Reconstructing genetic ancestry blocks in admixed individuals. Am J Hum Genet. 2006, 79: 1-12. 10.1086/504302.View ArticlePubMedPubMed CentralGoogle Scholar
Price AL, Tandon A, Patterson N, Barnes KC, Rafaels N, Ruczinski I, Beaty TH, Mathias R, Reich D, Myers S: Sensitive detection of chromosomal segments of distinct ancestry in admixed populations. PLoS Genet. 2009, 5: e1000519-10.1371/journal.pgen.1000519.View ArticlePubMedPubMed CentralGoogle Scholar
Brisbin A: Doctoral Dissertation. Linkage analysis for categorical traits and ancestry assignment in admixed individuals. 2010, Cornell UniversityGoogle Scholar
Perry GH, Louis EE, Ratan A, Bedoya-Reina OC, Burhans R, Lei R, Johnson SE, Schuster SC, Miller W: Aye-aye population genomic analyses highlight an important center of endemism in northern Madagascar. Proc Natl Acad Sci U S A. 2013, 110: 5823-5828. 10.1073/pnas.1211990110.View ArticlePubMedPubMed CentralGoogle Scholar
Perry GH, Reeves D, Melsted P, Ratan A, Miller W, Michelini K, Louis EE, Pritchard JK, Mason CE, Gilad Y: A genome sequence resource for the aye-aye (Daubentonia madagascariensis), a nocturnal lemur from Madagascar. Genome Biol Evol. 2012, 4: 126-135. 10.1093/gbe/evr132.View ArticlePubMedGoogle Scholar
Shriver MD, Kennedy GC, Parra EJ, Lawson HA, Sonpar V, Huang J, Akey JM, Jones KW: The genomic distribution of population substructure in four populations using 8,525 autosomal SNPs. Hum Genom. 2004, 1: 274-286. 10.1186/1479-7364-1-4-274.View ArticleGoogle Scholar
Hutter H, Vogel BE, Plenefisch JD, Norris CR, Proenca RB, Spieth J, Guo C, Mastwal S, Zhu X, Scheel J, Hedgecock EM: Conservation and novelty in the evolution of cell adhesion and extracellular matrix genes. Science. 2000, 287: 989-994. 10.1126/science.287.5455.989.View ArticlePubMedGoogle Scholar
Miner JH, Yurchenco PD: Laminin functions in tissue morphogenesis. Annu Rev Cell Dev Biol. 2004, 20: 255-284. 10.1146/annurev.cellbio.20.010403.094555.View ArticlePubMedGoogle Scholar
Ibraghimov-Beskrovnaya O, Ervasti JM, Leveille CJ, Slaughter CA, Sernett SW, Campbell KP: Primary structure of dystrophin-associated glycoproteins linking dystrophin to the extracellular matrix. Nature. 1992, 355: 696-702. 10.1038/355696a0.View ArticlePubMedGoogle Scholar
Hara Y, Balci-Hayta B, Yoshida-Moriguchi T, Kanagawa M, Beltrán-Valero de Bernabé D, Gündeşli H, Willer T, Satz JS, Crawford RW, Burden SJ, Kunz S, Oldstone MB, Accardi A, Talim B, Muntoni F, Topaloğlu H, Dinçer P, Campbell KP: A dystroglycan mutation associated with limb-girdle muscular dystrophy. N Engl J Med. 2011, 364: 939-946. 10.1056/NEJMoa1006939.View ArticlePubMedPubMed CentralGoogle Scholar
Petrof BJ, Shrager JB, Stedman HH, Kelly AM, Sweeney HL: Dystrophin protects the sarcolemma from stresses developed during muscle contraction. Proc Natl Acad Sci U S A. 1993, 90: 3710-3714. 10.1073/pnas.90.8.3710.View ArticlePubMedPubMed CentralGoogle Scholar
Samonte RV, Eichler EE: Segmental duplications and the evolution of the primate genome. Nat Rev Genet. 2002, 3: 65-72.View ArticlePubMedGoogle Scholar
Anapol FC, Jungers WL: Architectural and histochemical diversity within the quadriceps femoris of the brown lemur (Lemur fulvus). Am J Phyl Anthropol. 1986, 69: 355-375. 10.1002/ajpa.1330690308.View ArticleGoogle Scholar
Ward SC, Sussman RW: Correlates between locomotor anatomy and behavior in two sympatric species of Lemur. Am J Phys Anthropol. 1979, 50: 575-590. 10.1002/ajpa.1330500409.View ArticlePubMedGoogle Scholar
Kivell TL, Schmitt D, Wunderlich RE: Hand and foot pressures in the aye-aye (Daubentonia madagascariensis) reveal novel biomechanical trade-offs required for walking on gracile digits. J Exp Biol. 2010, 213: 1549-1557. 10.1242/jeb.040014.View ArticlePubMedGoogle Scholar
Wilmé L, Goodman SM, Ganzhorn JU: Biogeographic evolution of Madagascar's microendemic biota. Science. 2006, 312: 1063-1065. 10.1126/science.1122806.View ArticlePubMedGoogle Scholar
Sabeti PC, Schaffner SF, Fry B, Lohmueller J, Varilly P, Shamovsky O, Palma A, Mikkelsen TS, Altshuler D, Lander ES: Positive natural selection in the human lineage. Science. 2006, 312: 1614-1620. 10.1126/science.1124309.View ArticlePubMedGoogle Scholar
International Chicken Genome Sequencing Consortium: Sequence and comparative analysis of the chicken genome provide unique perspectives on vertebrate evolution. Nature. 2004, 432: 696-716.Google Scholar
Rubin CJ, Zody MC, Eriksson J, Meadows JR, Sherwood E, Webster MT, Jiang L, Ingman M, Sharpe T, Ka S, Hallböök F, Besnier F, Carlborg O, Bed'hom B, Tixier-Boichard M, Jensen P, Siegel P, Lindblad-Toh K, Andersson L: Whole-genome resequencing reveals loci under selection during chicken domestication. Nature. 2010, 464: 587-591. 10.1038/nature08832.View ArticlePubMedGoogle Scholar
Eriksson J, Larson G, Gunnarsson U, Bed'hom B, Tixier-Boichard M, Strömstedt L, Wright D, Jungerius A, Vereijken A, Randi E, Jensen P, Andersson L: Identification of the yellow skin gene reveals a hybrid origin of the domestic chicken. PLoS Genet. 2008, 4: e1000010-10.1371/journal.pgen.1000010.View ArticlePubMedPubMed CentralGoogle Scholar
von Holdt BM, Pollinger JP, Earl DA, Knowles JC, Boyko AR, Parker H, Geffen E, Pilot M, Jedrzejewski W, Jedrzejewska B, Sidorovich V, Greco C, Randi E, Musiani M, Kays R, Bustamante CD, Ostrander EA, Novembre J, Wayne RK: A genome-wide perspective on the evolutionary history of enigmatic wolf-like canids. Genome Res. 2011, 21: 1294-1305. 10.1101/gr.116301.110.View ArticleGoogle Scholar
Reich D, Wayne RK, Goldstein DB: Genetic evidence for a recent origin by hybridization of red wolves. Mol Ecol. 1999, 8: 139-144. 10.1046/j.1365-294X.1999.00514.x.View ArticlePubMedGoogle Scholar
Phillips MK, Henry VG, Kelly BT: Wolves. Edited by: Mech LD, Boitani L. 2003, Chicago: University of Chicago Press, 272-288. Restoration of the red wolf,Behavior, ecology, and conservation.Google Scholar
Hedrick PW, Fredrickson J: Captive breeding and the reintroduction of Mexican and red wolves. Mol Ecol. 2008, 17: 344-350. 10.1111/j.1365-294X.2007.03400.x.View ArticlePubMedGoogle Scholar
Schuster SC, Miller W, Ratan A, Tomsho LP, Giardine B, Kasson LR, Harris RS, Petersen DC, Zhao F, Qi J, Alkan C, Kidd JM, Sun Y, Drautz DI, Bouffard P, Muzny DM, Reid JG, Nazareth LV, Wang Q, Burhans R, Riemer C, Wittekindt NE, Moorjani P, Tindall EA, Danko CG, Teo WS, Buboltz AM, Zhang Z, Ma Q, Oosthuysen A: Complete Khoisan and Bantu genomes from southern Africa. Nature. 2010, 463: 943-947. 10.1038/nature08795.View ArticlePubMedPubMed CentralGoogle Scholar
Alexander DH, Novembre J, Lange K: Fast model-based estimation of ancestry in unrelated individuals. Genome Res. 2009, 19: 1655-1664. 10.1101/gr.094052.109.View ArticlePubMedPubMed CentralGoogle Scholar
Alexander DH, Lange K: Enhancements to the ADMIXTURE algorithm for individual ancestry estimation. BMC Bioinforma. 2011, 12: 246-10.1186/1471-2105-12-246.View ArticleGoogle Scholar
Rubin CJ, Megens HJ, Martinez Barrio A, Maqbool K, Sayyab S, Schwochow D, Wang C, Carlborg Ö, Jern P, Jørgensen CB, Archibald AL, Fredholm M, Groenen MA, Andersson L: Strong signatures of selection in the domestic pig genome. Proc Natl Acad Sci U S A. 2012, 109: 19529-19536. 10.1073/pnas.1217149109.View ArticlePubMedPubMed CentralGoogle Scholar
Groenen MA, Archibald AL, Uenishi H, Tuggle CK, Takeuchi Y, Rothschild MF, Rogel-Gaillard C, Park C, Milan D, Megens HJ, Li S, Larkin DM, Kim H, Frantz LA, Caccamo M, Ahn H, Aken BL, Anselmo A, Anthon C, Auvil L, Badaoui B, Beattie CW, Bendixen C, Berman D, Blecha F, Blomberg J, Bolund L, Bosse M, Botti S, Bujie Z, Bystrom M, Capitanu B, Carvalho-Silva D, Chardon P, Chen C, Cheng R, Choi SH, Chow W, Clark RC, Clee C, Crooijmans RP, Dawson HD, Dehais P, De Sapio F, Dibbits B, Drou N, Du ZQ, Eversole K, Fadista J, Fairley S, Faraut T, Faulkner GJ, Fowler KE, Fredholm M, Fritz E, Gilbert JG, Giuffra E, Gorodkin J, Griffin DK, Harrow JL, Hayward A, Howe K, Hu ZL, Humphray SJ, Hunt T, Hornshøj H, Jeon JT, Jern P, Jones M, Jurka J, Kanamori H, Kapetanovic R, Kim J, Kim JH, Kim KW, Kim TH, Larson G, Lee K, Lee KT, Leggett R, Lewin HA, Li Y, Liu W, Loveland JE, Lu Y, Lunney JK, Ma J, Madsen O, Mann K, Matthews L, McLaren S, Morozumi T, Murtaugh MP, Narayan J, Nguyen DT, Ni P, Oh SJ, Onteru S, Panitz F, Park EW, Park HS, Pascal G, Paudel Y, Perez-Enciso M, Ramirez-Gonzalez R, Reecy JM, Rodriguez-Zas S, Rohrer GA, Rund L, Sang Y, Schachtschneider K, Schraiber JG, Schwartz J, Scobie L, Scott C, Searle S, Servin B, Southey BR, Sperber G, Stadler P, Sweedler JV, Tafer H, Thomsen B, Wali R, Wang J, Wang J, White S, Xu X, Yerle M, Zhang G, Zhang J, Zhang J, Zhao S, Rogers J, Churcher C, Schook LB: Analyses of pig genomes provide insight into porcine demography and evolution. Nature. 2012, 491: 393-398. 10.1038/nature11622.View ArticlePubMedPubMed CentralGoogle Scholar
Fontanesi L, Schiavo G, Galimberti G, Calò DG, Scotti E, Martelli PL, Buttazzoni L, Casadio R, Russo V: Identification and association analysis of several hundred single nucleotide polymorphisms within candidate genes for back fat thickness in Italian Large White pigs using a selective genotyping approach. J Anim Sci. 2012, 90: 2450-2464. 10.2527/jas.2011-4797.View ArticlePubMedGoogle Scholar
Mikawa S, Sato S, Nii M, Morozumi T, Yoshioka G, Imaeda N, Yamaguchi T, Hayashi T, Awata T: Identification of a second gene associated with variation in vertebral number in domestic pigs. BMC Genet. 2011, 12: 5-10.1186/1471-2156-12-5.View ArticlePubMedPubMed CentralGoogle Scholar
Sato S, Hasebe H, Asahi Y, Hayashi T, Kobayashi E, Sugimoto Y: High-resolution physical mapping and construction of a porcine contig spanning the intramuscular fat content QTL. Anim Genet. 2006, 37: 113-120. 10.1111/j.1365-2052.2005.01397.x.View ArticlePubMedGoogle Scholar
Piotrowski JS, Annis SL, Longcore JE: Physiology of Batrachochytrium dendrobatidis, a chytrid pathogen of amphibians. Mycologia. 2004, 96: 9-15. 10.2307/3761981.View ArticlePubMedGoogle Scholar
Rosenblum EB, James TY, Zamudio KR, Poorten TJ, Ilut D, Rodriguez D, Eastman JM, Richards-Hrdlicka K, Joneson S, Jenkinson TS, Longcore JE, Parra Olea G, Toledo LF, Arellano ML, Medina EM, Restrepo S, Flechas SV, Berger L, Briggs CJ, Stajich JE: Complex history of the amphibian-killing chytrid fungus revealed with genome resequencing data. Proc Natl Acad Sci U S A. 2013, 110: 9385-9390. 10.1073/pnas.1300130110.View ArticlePubMedPubMed CentralGoogle Scholar
Stajich lab popgen data at GitHub.https://github.com/stajichlab/bd_popgen.
Moss AS, Reddy NS, Dortaj IM, San Francisco MJ: Chemotaxis of the amphibian pathogen Batrachochytrium dendrobatidis and its response to a variety of attractants. Mycologia. 2008, 100: 1-5. 10.3852/mycologia.100.1.1.View ArticlePubMedGoogle Scholar
Prados-Rosales RC, Roldán-Rodríguez R, Serena C, López-Berges MS, Guarro J, Martínez-del-Pozo A, Di Pietro A: A PR-1-like protein of Fusarium oxysporum functions in virulence on mammalian hosts. J Biol Chem. 2012, 287: 21970-21979. 10.1074/jbc.M112.364034.View ArticlePubMedPubMed CentralGoogle Scholar
Teixeira PJ, Thomazella DP, Vidal RO, do Prado PF, Reis O, Baroni RM, Franco SF, Mieczkowski P, Pereira GA, Mondego JM: The fungal pathogen Moniliophthora perniciosa has genes similar to plant PR-1 that are highly expressed during its interaction with cacao. PLoS One. 2012, 7: e45929-10.1371/journal.pone.0045929.View ArticlePubMedPubMed CentralGoogle Scholar
Koskela HL, Eldfors S, Ellonen P, van Adrichem AJ, Kuusanmäki H, Andersson EI, Lagström S, Clemente MJ, Olson T, Jalkanen SE, Majumder MM, Almusa H, Edgren H, Lepistö M, Mattila P, Guinta K, Koistinen P, Kuittinen T, Penttinen K, Parsons A, Knowles J, Saarela J, Wennerberg K, Kallioniemi O, Porkka K, Loughran TP, Heckman CA, Maciejewski JP, Mustjoki S: Somatic STAT3 mutations in large granular lymphocytic leukemia. N Engl J Med. 2012, 366: 1905-1913. 10.1056/NEJMoa1114885.View ArticlePubMedPubMed CentralGoogle Scholar
Kumar P, Henikoff S, Ng PC: Predicting the effects of coding non-synonymous variants on protein function using the SIFT algorithm. Nat Protoc. 2009, 4: 1073-1081. 10.1038/nprot.2009.86.View ArticlePubMedGoogle Scholar
Epling-Burnette PK, Liu JH, Catlett-Falcone R, Turkson J, Oshiro M, Kothapalli R, Li Y, Wang JM, Yang-Yen HF, Karras J, Jove R, Loughran TP: Inhibition of STAT3 signaling leads to apoptosis of leukemic large granular lymphocytes and decreased Mcl-1 expression. J Clin Invest. 2001, 107: 351-362. 10.1172/JCI9940.View ArticlePubMedPubMed CentralGoogle Scholar
Lewis BP, Burge CB, Bartel DP: Conserved seed pairing, often flanked by adenosines, indicates that thousands of human genes are microRNA targets. Cell. 2005, 120: 15-20. 10.1016/j.cell.2004.12.035.View ArticlePubMedGoogle Scholar
Kent WJ, Sugnet CW, Furey TS, Roskin KM, Pringle TH, Zahler AM, Haussler D: The human genome browser at UCSC. Genome Res. 2002, 12: 996-1006.View ArticlePubMedPubMed CentralGoogle Scholar
Meyer LR, Zweig AS, Hinrichs AS, Karolchik D, Kuhn RM, Wong M, Sloan CA, Rosenbloom KR, Roe G, Rhead B, Raney BJ, Pohl A, Malladi VS, Li CH, Lee BT, Learned K, Kirkup V, Hsu F, Heitner S, Harte RA, Haeussler M, Guruvadoo L, Goldman M, Giardine BM, Fujita PA, Dreszer TR, Diekhans M, Cline MS, Clawson H, Barber GP, Haussler D, Kent WJ: The UCSC Genome Browser database: extensions and updates 2013. Nucl Acids Res. 2013, 41: D64-D69. 10.1093/nar/gks1048.View ArticlePubMedGoogle Scholar
Mason VC, Li G, Helgen KM, Murphy WJ: Efficient cross-species capture hybridization and next-generation sequencing of mitochondrial genomes from noninvasively sampled museum specimens. Genome Res. 2011, 21: 1695-1704. 10.1101/gr.120196.111.View ArticlePubMedPubMed CentralGoogle Scholar
Stiller M, Knapp M, Stenzel U, Hofreiter M, Meyer M: Direct multiplex sequencing (DMPS)–a novel method for targeted high-throughput sequencing of ancient and highly degraded DNA. Genome Res. 2009, 19: 1843-1848. 10.1101/gr.095760.109.View ArticlePubMedPubMed CentralGoogle Scholar
Vines TH, Andrew RL, Bock DG, Franklin MT, Gilbert KJ, Kane NC, Moore JS, Moyers BT, Renaut S, Rennison DJ, Veen T, Yeaman S: Mandated data archiving greatly improves access to research data. FASEB J. 2013, 27: 1304-1308. 10.1096/fj.12-218164.View ArticlePubMedGoogle Scholar
Romanov MN, Tuttle EM, Houck ML, Modi WS, Chemnick LG, Korody ML, Mork EM, Otten CA, Renner T, Jones KC, Dandekar S, Papp JC, Da Y, Comparative Sequencing Program NISC, Green ED, Magrini V, Hickenbotham MT, Glasscock J, McGrath S, Mardis ER, Ryder OA: The value of avian genomics to the conservation of wildlife. BMC Genomics. 2009, 14 (Suppl 2): S10-View ArticleGoogle Scholar
Jones FC, Grabherr MG, Chan YF, Russell P, Mauceli E, Johnson J, Swofford R, Pirun M, Zody MC, White S, Birney E, Searle S, Schmutz J, Grimwood J, Dickson MC, Myers RM, Miller CT, Summers BR, Knecht AK, Brady SD, Zhang H, Pollen AA, Howes T, Amemiya C, Baldwin J, Bloom T, Jaffe DB, Nicol R, Wilkinson J, Lander ES, Di Palma F, Lindblad-Toh K, Kingsley DM, Broad Institute Genome Sequencing Platform & Whole Genome Assembly Team: The genomic basis of adaptive evolution in threespine sticklebacks. Nature. 2012, 484: 55-61. 10.1038/nature10944.View ArticlePubMedPubMed CentralGoogle Scholar
Li H, Durbin R: Inference of human population history from individual whole genome sequences. Nature. 2011, 475: 493-496. 10.1038/nature10231.View ArticlePubMedPubMed CentralGoogle Scholar
Mailund T, Dutheil JY, Hobolth A, Lunter G, Schierup MH: Estimating divergence time and ancestral effective population size of Bornean and Sumatran orangutan subspecies using a coalescent hidden Markov model. PLoS Genet. 2011, 7: e1001319-10.1371/journal.pgen.1001319.View ArticlePubMedPubMed CentralGoogle Scholar
Miller W, Wright SJ, Zhang Y, Schuster SC, Hayes VM: Optimization methods for selecting founder individuals for captive breeding or reintroduction of endangered species. Pac Symp Biocomp. 2010, 15: 43-53.Google Scholar
Get Galaxy: Galaxy Download and Installation.http://getgalaxy.org/.
Hub page for Galaxy Administration of computational tools.http://wiki.galaxyproject.org/Admin/Tools.
Hub page for administering Galaxy data types.http://wiki.galaxyproject.org/Admin/Datatypes.
Galaxy Tool Shed: Categories. Categories,http://usegalaxy.org/toolshed.Google Scholar
Galaxy Tool Shed.http://wiki.galaxyproject.org/Tool%20Shed.
Galaxy Tool Shed: Repository 'genome_diversity'.http://usegalaxy.org/toolshed/view/miller-lab/genome_diversity.
Howe K, Bateman A, Durbin R: QuickTree: building huge Neighbour-Joining trees of protein sequences. Bioinformatics. 2002, 18: 1546-1547. 10.1093/bioinformatics/18.11.1546.View ArticlePubMedGoogle Scholar
Stamatakis A: RAxML-VI-HPC: maximum likelihood-based phylogenetic analyses with thousands of taxa and mixed models. Bioinformatics. 2006, 22: 2688-2690. 10.1093/bioinformatics/btl446.View ArticlePubMedGoogle Scholar
Patterson N, Price AL, Reich D: Population structure and eigenanalysis. PLoS Genet. 2006, 2: e190-10.1371/journal.pgen.0020190.View ArticlePubMedPubMed CentralGoogle Scholar
Huang X, Pevzner P, Miller W: Combinatorial Pattern Matching. Edited by: Crochemore M, Gusfield D. 1994, Berlin: Springer-Verlag, 807: 87-101. 10.1007/3-540-58094-8_8. Parametric recomputing in alignment graphs, Springer Lecture Notes in Computer Science.View ArticleGoogle Scholar
Rozen S, Skaletsy HJ: Bioinformatics Methods and Protocols. Edited by: Misener KS. 2000, Totowa NJ: Humana Press, 365-386. Primer3 on the WWW for general users and for biologist programmers, Methods in Molecular Biology.Google Scholar
Fredman M, Tarjan R: Fibonacci heaps and their uses in improved network optimization algorithms. J Assoc Comput Mach. 1987, 34: 596-615. 10.1145/28869.28874.View ArticleGoogle Scholar
Blake JA, Chan J, Kishore R, Sternberg P, Van Auken K: Gene ontology annotations and resources. Nucleic Acids Res. 2013, 41: D530-D535.View ArticlePubMedGoogle Scholar
Flicek P, Ahmed I, Amode MR, Barrell D, Beal K, Brent S, Carvalho-Silva D, Clapham P, Coates G, Fairley S, Fitzgerald S, Gil L, García-Girón C, Gordon L, Hourlier T, Hunt S, Juettemann T, Kähäri AK, Keenan S, Komorowska M, Kulesha E, Longden I, Maurel T, McLaren WM, Muffato M, Nag R, Overduin B, Pignatelli M, Pritchard B, Pritchard E, Riat HS, Ritchie GR, Ruffier M, Schuster M, Sheppard D, Sobral D, Taylor K, Thormann A, Trevanion S, White S, Wilder SP, Aken BL, Birney E, Cunningham F, Dunham I, Harrow J, Herrero J, Hubbard TJ, Johnson N, Kinsella R, Parker A, Spudich G, Yates A, Zadissa A, Searle SM: Ensembl 2013. Nucleic Acids Res. 2013, 41: D48-D55. 10.1093/nar/gks1236.View ArticlePubMedGoogle Scholar
Rivals I, Personnaz L, Taing L, Potier MC: Enrichment or depletion of a GO category within a class of genes: which test?. Bioinformatics. 2007, 23: 401-407. 10.1093/bioinformatics/btl633.View ArticlePubMedGoogle Scholar
Kryukov GV, Pennacchio LA, Sunyaev SR: Most rare missense alleles are deleterious in humans: implications for complex disease and association studies. Am J Hum Genet. 2007, 80: 727-739. 10.1086/513473.View ArticlePubMedPubMed CentralGoogle Scholar
Sonachalam M, Shen J, Huang H, Wu X: Systems biology approach to identify gene network signatures for colorectal cancer. Front Genet. 2012, 3: 80-View ArticlePubMedPubMed CentralGoogle Scholar
Kanehisa M, Goto S: KEGG: Kyoto encyclopedia of genes and genomes. Nucleic Acids Res. 2000, 28: 27-30. 10.1093/nar/28.1.27.View ArticlePubMedPubMed CentralGoogle Scholar
Kanehisa M, Goto S, Sato Y, Furumichi M, Tanabe M: KEGG for integration and interpretation of large-scale molecular datasets. Nucleic Acids Res. 2012, 40: D109-D114. 10.1093/nar/gkr988.View ArticlePubMedGoogle Scholar
Miller W, Hayes VM, Ratan A, Petersen DC, Wittekindt NE, Miller J, Walenz B, Knight J, Qi J, Zhao F, Wang Q, Bedoya-Reina OC, Katiyar N, Tomsho LP, Kasson LM, Hardie RA, Woodbridge P, Tindall EA, Bertelsen MF, Dixon D, Pyecroft S, Helgen KM, Lesk AM, Pringle TH, Patterson N, Zhang Y, Kreiss A, Woods GM, Jones ME, Schuster SC: Genetic diversity and population structure of the endangered marsupial Sarcophilus harrisii (Tasmanian devil). Proc Natl Acad Sci U S A. 2011, 108: 12348-12353. 10.1073/pnas.1102838108.View ArticlePubMedPubMed CentralGoogle Scholar
Bedoya-Reina OC, Ratan A, Harris RS, Riemer C, Burhans R, Perry GH, Schuster SC, Miller W: Network approaches reveal hypothetical causes for phenotypes in wild mammal populations. Genome Informatics. 2012, Cambridge, UK: Robinson College, 6-9 September 2012Google Scholar
Cann HM, de Toma C, Cazes L, Legrand MF, Morel V, Piouffre L, Bodmer J, Bodmer WF, Bonne-Tamir B, Cambon-Thomsen A, Chen Z, Chu J, Carcassi C, Contu L, Du R, Excoffier L, Ferrara GB, Friedlaender JS, Groot H, Gurwitz D, Jenkins T, Herrera RJ, Huang X, Kidd J, Kidd KK, Langaney A, Lin AA, Mehdi SQ, Parham P, Piazza A, Pistillo MP, Qian Y, Shu Q, Xu J, Zhu S, Weber JL, Greely HT, Feldman MW, Thomas G, Dausset J, Cavalli-Sforza LL: A human genome diversity cell line panel. Science. 2002, 296: 261-262.View ArticlePubMedGoogle Scholar
The international HapMap Consortium: The international HapMap project. Nature. 2003, 426: 789-796. 10.1038/nature02168.View ArticleGoogle Scholar
Schlebusch CM, Skoglund P, Sjödin P, Gattepaille LM, Hernandez D, Jay F, Li S, De Jongh M, Singleton A, Blum MG, Soodyall H, Jakobsson M: Genomic variation in seven Khoe-San groups reveals adaptation and complex African history. Science. 2012, 338: 374-379. 10.1126/science.1227721.View ArticlePubMedGoogle Scholar
Download B: dendrobatidis Sequence.http://www.broadinstitute.org/annotation/genome/batrachochytrium_dendrobatidis/MultiDownloads.html.
Bedoya-Reina OC, Ratan A, Burhans R, Kim HL, Giardine B, Riemer C, Li Q, Olson TL, Loughran TP, von Holdt BM, Perry GH, Schuster SC, Miller W: GigaGalaxy workflows and histories from "Galaxy tools to study genome diversity". GigaScience Database. 2013,http://dx.doi.org/10.5524/100069.Google Scholar
Galaxy page for this paper.http://usegalaxy.org/r/diversity-tools.
Documentation for Genome Diversity Tools.http://www.bx.psu.edu/miller_lab/docs/galaxy_phen_assoc/tutorial/example4/example4.html.
Krause J, Unger T, Noçon A, Malaspinas AS, Kolokotronis SO, Stiller M, Soibelzon L, Spriggs H, Dear PH, Briggs AW, Bray SC, O'Brien SJ, Rabeder G, Matheus P, Cooper A, Slatkin M, Pääbo S, Hofreiter M: Mitochondrial genomes reveal an explosive radiation of extinct and extant bears near the Miocene-Pliocene boundary. BMC Evol Biol. 2008, 8: 220-10.1186/1471-2148-8-220.View ArticlePubMedPubMed CentralGoogle Scholar
Copyright
© Bedoya-Reina et al.; licensee BioMed Central Ltd. 2013
This article is published under license to BioMed Central Ltd. This is an open access article distributed under the terms of the Creative Commons Attribution License (http://creativecommons.org/licenses/by/2.0), which permits unrestricted use, distribution, and reproduction in any medium, provided the original work is properly cited.