Data Note
Open Access
Open Peer Review
This article has Open Peer Review reports available.
Spatially transformed fluorescence image data for ERK-MAPK and selected proteins within human epidermis
Received: 1 September 2015
Accepted: 3 December 2015
Published: 14 December 2015
Abstract
Background
Phosphoprotein signalling pathways have been intensively studied in vitro, yet their role in regulating tissue homeostasis is not fully understood. In the skin, interfollicular keratinocytes differentiate over approximately 2 weeks as they traverse the epidermis. The extracellular signal-regulated kinase (ERK) branch of the mitogen-activated protein kinase (MAPK) pathway has been implicated in this process. Therefore, we examined ERK-MAPK activity within human epidermal keratinocytes in situ.
Findings
We used confocal microscopy and immunofluorescence labelling to measure the relative abundances of Raf-1, MEK1/2 and ERK1/2, and their phosphorylated (active) forms within three human skin samples. Additionally, we measured the abundance of selected proteins thought to modulate ERK-MAPK activity, including calmodulin, β1 integrin and stratifin (14-3-3σ); and of transcription factors known to act as effectors of ERK1/2, including the AP-1 components Jun-B, Fra2 and c-Fos. Imaging was performed with sufficient resolution to identify the plasma membrane, cytoplasm and nucleus as distinct domains within cells across the epidermis. The image field of view was also sufficiently large to capture the entire epidermis in cross-section, and thus the full range of keratinocyte differentiation in a single observation. Image processing methods were developed to quantify image data for mathematical and statistical analysis. Here, we provide raw image data and processed outputs.
Conclusions
These data indicate coordinated changes in ERK-MAPK signalling activity throughout the depth of the epidermis, with changes in relative phosphorylation-mediated signalling activity occurring along the gradient of cellular differentiation. We believe these data provide unique information about intracellular signalling as they are obtained from a homeostatic human tissue, and they might be useful for investigating intercellular heterogeneity.
Keywords
MEK1/2CalmodulinSkinInterfollicular keratinocytesImmunofluorescenceConfocal microscopyHomeostatic tissueCellular heterogeneity
Background
Dysregulated signalling is a common oncogenic driver, and a number of newer cancer drugs target components of the intracellular signalling network [1]. Phosphoprotein signalling has been studied extensively in vitro, and this has provided detailed knowledge of the molecular interactions that propagate signals through these networks [2]. However, to fully understand the role that signalling protein mutations have in oncogenesis, and to design treatments with minimal side effects, we need to elucidate the role that signalling pathways have in controlling cellular behaviour within normal, homeostatic tissues in situ.
In human skin, the interfollicular epidermis is a stratified epithelial tissue where keratinocytes are arranged in a gradient of cellular differentiation across the depth of the tissue [3]. Cellular proliferation occurs within the deepest basal layer, and keratinocytes that leave this layer undergo terminal differentiation as they traverse the epidermis towards the surface layer, a process that takes approximately 2 weeks [3]. This process establishes a spatiotemporal differentiation gradient, such that the position of a keratinocyte within the epidermis is related to its stage of differentiation. Hence, the human epidermis is a useful model system to study intracellular signalling in situ in a homeostatic tissue.
A number of regulatory mechanisms control keratinocyte behaviour to ensure epidermal tissue function [
4
,
5
], and ERK1/2 signalling has been implicated in controlling keratinocyte differentiation both in vivo [
6
] and in vitro [
7
]. Therefore, we examined ERK-MAPK activity within human epidermis to try to elucidate the role of intracellular signalling in controlling adherent cell behaviour in situ. A selection of proteins that modulate the ERK-MAPK pathway within human epidermis were also examined, as were several components of the AP-1 transcription factor family [
8
] that are regulated, in part, by ERK1/2 activity (Fig.
1
).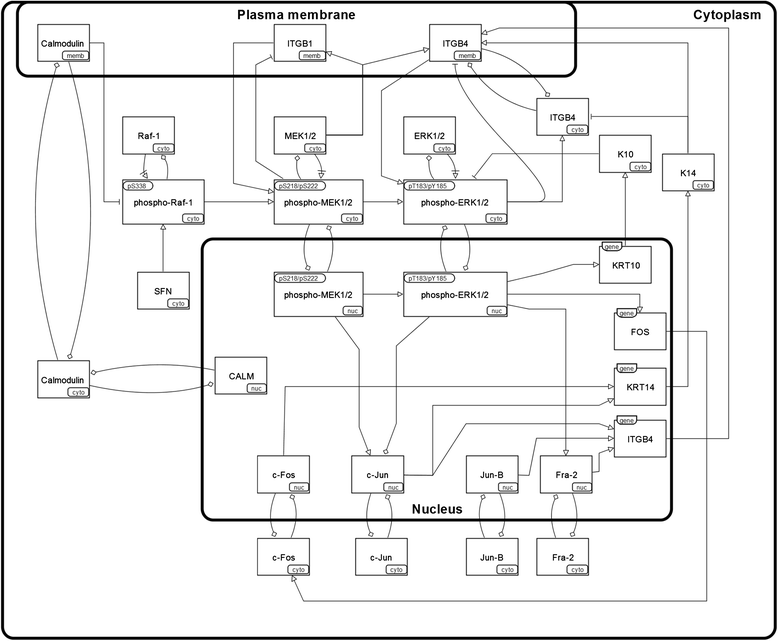 Availability and requirements
Project name: Epidermal MAPK Data Scripts

Project home page: http://www.github.com/uomsystemsbiology/epidermal_data

Operating systems: platform-independent

Programming language: MATLAB

Other requirements: MATLAB (2012b or later), including the Image Processing, Curve Fitting and Neural Network Toolboxes

License: MIT license

Restrictions to use by non-academics: none

Project name: Virtual Reference Environment for Epidermal MAPK Data Scripts (further details on virtual reference environments [13] can be found at http://uomsystemsbiology.github.io/research/reference-environments)

Project home page: http://www.github.com/uomsystemsbiology/epidermal_data_reference_environment

Operating systems: platform-independent

Programming languages: MATLAB

Other requirements: Vagrant (version 1.7.2 or higher), VirtualBox (version 4.3.x or higher)

License: MIT license

Restrictions to use by non-academics: to replicate these results using the reference environment, users must accept the MATLAB® Compiler Runtime Libraries License which is displayed during installation.
Availability of supporting data
The dataset supporting the results of this article is available in the GigaScience Database repository [14].
Abbreviations
ERK:

Extracellular signal-regulated kinase
MAPK:

Mitogen-activated protein kinase
MEK:

MAPK/ERK kinase
PBS:

Phosphate buffered saline
Declarations
Acknowledgements
We gratefully acknowledge the contributions of Jenni Chen (University of Auckland, New Zealand) during development of the immunofluorescence labelling methods, and the Biomedical Imaging Research Unit at the University of Auckland (New Zealand) for their assistance with confocal microscopy. JC received funding from the Tertiary Education Commission (New Zealand) Top Achiever Doctoral Scholarship. This research was funded through a New Economy Research Fund (New Zealand) grant for Advanced Skin Imaging (contract C08X0801), and funded in part by the Australian Research Council Centre of Excellence in Convergent Bio-Nano Science and Technology (project number CE140100036).
Open AccessThis article is distributed under the terms of the Creative Commons Attribution 4.0 International License (http://creativecommons.org/licenses/by/4.0/), which permits unrestricted use, distribution, and reproduction in any medium, provided you give appropriate credit to the original author(s) and the source, provide a link to the Creative Commons license, and indicate if changes were made. The Creative Commons Public Domain Dedication waiver (http://creativecommons.org/publicdomain/zero/1.0/) applies to the data made available in this article, unless otherwise stated.
Authors' Affiliations
(1)
Systems Biology Laboratory, Melbourne School of Engineering, University of Melbourne, Parkville, Australia,
(2)
ARC Centre of Excellence in Convergent Bio-Nano Science and Technology, University of Melbourne, Parkville, Australia,
(3)
Maurice Wilkins Centre, University of Auckland, Auckland, New Zealand
(4)
School of Biological Sciences, University of Auckland, Auckland, New Zealand
(5)
Bioinformatics Institute, University of Auckland, Auckland, New Zealand
(6)
Faculty of Medical and Health Sciences, University of Auckland, Auckland, New Zealand
(7)
Department of Biology, New Zealand International College, ACG New Zealand, Auckland, New Zealand
(8)
School of Mathematics and Statistics, University of Melbourne, Parkville, Australia,
(9)
School of Medicine, University of Melbourne, Parkville, Australia,