Research
Open Access
Open Peer Review
This article has Open Peer Review reports available.
Investigation into the annotation of protocol sequencing steps in the sequence read archive
Received: 15 October 2014
Accepted: 28 April 2015
Published: 9 May 2015
Abstract
Background
The workflow for the production of high-throughput sequencing data from nucleic acid samples is complex. There are a series of protocol steps to be followed in the preparation of samples for next-generation sequencing. The quantification of bias in a number of protocol steps, namely DNA fractionation, blunting, phosphorylation, adapter ligation and library enrichment, remains to be determined.
Results
We examined the experimental metadata of the public repository Sequence Read Archive (SRA) in order to ascertain the level of annotation of important sequencing steps in submissions to the database. Using SQL relational database queries (using the SRAdb SQLite database generated by the Bioconductor consortium) to search for keywords commonly occurring in key preparatory protocol steps partitioned over studies, we found that 7.10%, 5.84% and 7.57% of all records (fragmentation, ligation and enrichment, respectively), had at least one keyword corresponding to one of the three protocol steps. Only 4.06% of all records, partitioned over studies, had keywords for all three steps in the protocol (5.58% of all SRA records).
Conclusions
The current level of annotation in the SRA inhibits systematic studies of bias due to these protocol steps. Downstream from this, meta-analyses and comparative studies based on these data will have a source of bias that cannot be quantified at present.
Keywords
Next-generation sequencingLigationFragmentationEnrichmentProtocolMetadataExperimentAnnotation
Data description
The sequence read archive
The SRA is one of the primary repositories for high-throughput sequencing data [3]. As of December 2013, according to our queries, there were 29,598 studies in the database. The archive is synchronised periodically as part of the International Nucleotide Sequence Database Collaboration (INSDC) and this allows data deposited to any site that is part of the collaboration to be accessed via any of the others. In addition to the raw sequence data that comprise the bulk of the total data in the archive, metadata describing experimental parameters are also stored and made accessible to users. A number of such parameters are recorded with depositions – for example the design of the experiment, details of species, cell lines, samples and identifiers for sequencing platforms, and protocols [33]. As outlined below, there is a detailed database schema for conveying the metadata associated with each deposition. Given the large number of depositions and facilities for depositing metadata, the SRA is an excellent database to examine the range of different protocols.
SRA database schema
The schema for the Bioconductor SRAdb SQLite relational database, which is derived from and reflects the underlying NCBI SRA XML data (see
Methods
for further details), is shown in Figure
2
. This particularly focuses on the metadata for sequence read data [
34
,
35
]. The fields in bold are those relevant to this paper. SRA metadata is organised and stored in a relational database format across a number of tables:
Submission, Study, Experiment, Run, Sample and Analysis
. Each of the fields allows free-text entries.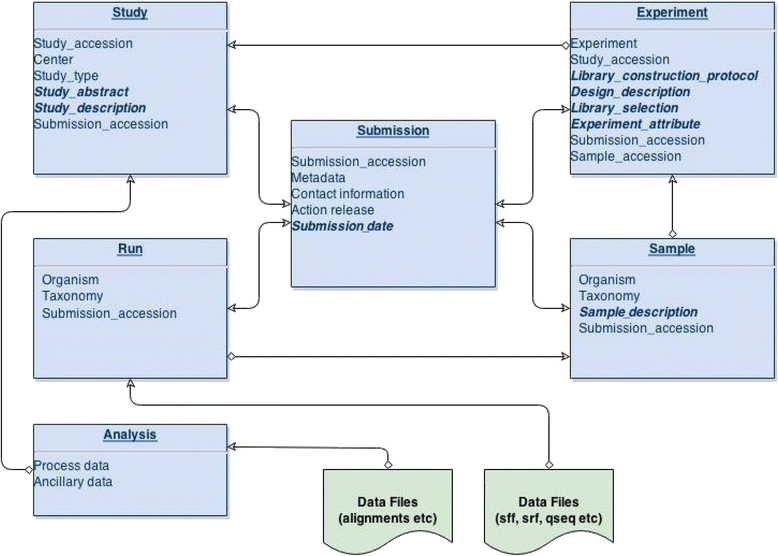 Raw sequence data is stored under specifically named directories described in the metadata; the Study table is the master table in this case. For each study entry, there are many Experiment entries and corresponding Sample and Run entries. Given that Experiment, Sample and Run tables have many-to-one relationships to each study entry, we have aggregated them by Study entry.
Analyses
Annotation of protocols in SRA metadata
A search for the keywords listed in Table
1
was carried out over all the metadata fields (listed in Table
2
) deposited in the SRA. The results are summarised in Table
3
.
Table 1
Table depicting the structured word list for given protocol steps (fragmentation, adapter-ligation, enrichment)
| Protocol step structured word lists | | |
| --- | --- | --- |
| Fragmentation | Adapter-ligation | Enrichment |
| shear | adapter | clone% |
| restriction | ligat% | clonin% |
| digest | blunt% | vector% |
| fragment | phosphorylat% | pcr |
| breaks | overhang | amplif% |
| acoustic | t4-pnk | polymerase |
| nebulisation | t4 | taq |
| nebulization | pnk | phusion |
| nebuliz | kinase | temperat% |
| nebulis | a-tail | thermal% |
| sonic | | anneal% |
| | | denature% |
Table 2
SRA developer documentation (col_desc table found in SQLite DB)
| Table | Field | Description |
| --- | --- | --- |
| Study | study_abstract | Briefly describes the goals, purpose and scope of the Study. This need not be listed if it can be inherited from a referenced publication. |
| Study | study_description | More extensive free-form description of the study. |
| Sample | description | Free-form text describing the sample, its origin and its method of isolation. |
| Experiment | design_description | More details about the set-up and goals of the experiment as supplied by the Investigator. |
| Experiment | library_selection | Whether any method was used to select and/or enrich the material being sequenced. |
| Experiment | library_construction_protocol | Free-form text describing the protocol by which the sequencing library was constructed. |
| Experiment | experiment_attribute | Properties and attributes of the experiment. These can be entered as free-form tag-value pairs. |
Table 3
Metadata SQL query results
Table

Field

Total records (in table)

Annotation record counts

Fragmentation

Adapter ligation

Enrichment

All steps

Study

study_abstract

29,598

376 (1.27%)

138 (0.47%)

941 (3.18%)

12 (0.04%)

Study

study_description

292 (0.98%)

136 (0.51%)

488 (1.65%)

53 (0.18%)

Sample

description

480,222

1,632 (0.34%)

896 (0.19%)

2159 (0.45%)

653 (0.14%)

Experiment

design_description

419,620

11,705 (2.79%)

6,382 (1.53%)

16,779 (4.00%)

2,691 (0.64%)

Experiment

library_selection

1,493 (0.36%)

0 (0%)

0 (0%)

0 (0%)

Experiment

library_construction_protocol

29,799 (7.10%)

24,486 (5.84%)

31,782 (7.57%)

17,021 (4.06%)

Experiment

experiment_attribute

422 (0.10%)

1,026 (0.24%)

2,814 (0.67%)

129 (0.03%)
The most populated field in terms of protocol annotation was the library_construction_protocol field of the experiment table (Experiment:library_construction_protocol). Despite this, fragmentation, adapter ligation and enrichment were annotated in 7.10%, 5.84% and 7.57% of all records respectively, with only 4.06% of entries having all three protocol steps annotated. We also found that approximately half (212,070; 51.12%) of the total records have a null entry in the library_construction protocol field. The next most annotated field in terms of next-generation sequencing sample preparation protocol steps was the experiment table (Experiment: design_description), with 2.79%, 1.53% and 4.00% being annotated for fragmentation, adapter ligation and enrichment annotation respectively, and only 0.64% of the records covering all of the three main protocol steps.
A small number of depositions have protocol information within their study abstracts and/or study descriptions. Understandably, these fields may contain words for or describe a protocol step in the abstract if it constituted a notable aspect of the submitter's experiment; however, proper annotation should occur in the Experiment:library_construction_protocol field. The vast majority of the small number of entries in the Study:study_abstract field had corresponding entries in the correct Experiment:library_construction_protocol field (99.2%, 100% and 100% for fragmentation, ligation and library enrichment annotations respectively). Likewise entries in the Experiment:design_description field also had corresponding Experiment:library_construction_protocol field entries (99.0%, 100%, 100% for fragmentation, ligation and library enrichment annotations respectively).
Our analysis of SRA metadata found that only 84,911 out of a total of 414,788 experimental records (20.47%) exhibited annotation for any of the three protocol steps, whilst only 16,930 of the total had all three key annotation steps documented. These "fully annotated" records (those that have documented the key protocol steps of fragmentation, ligation and library enrichment) comprise only 4.06% of all the aforementioned records.
Low level of protocol step annotation in the metadata across all top-level SRA studies
As outlined in Methods and Reagent kit data section, focusing on the Experiment records may not reflect the level of annotations across individual studies. In order to avoid this within our structured queries we collated by top-level study.
When examining the SRA metadata from the top-most Study level, the extent of annotation of the key next-generation sequencing workflow protocol steps (fragmentation, ligation and enrichment) was also found to be low. Out of 29,598 study records, 21,799 (73.6%) of the studies – where all of their associated records were associated – had no annotation whatsoever. The number of studies with full annotation was 1,409 (4.7%).
Reagent kit data
The use of reagent kits and SRA users' corresponding annotation was also tested; additional SQL queries were written to search for the keywords "reagent" or "kit" in the experiment table Library_construction_protocol field. Counts of these records were compared against those probed for all annotation types. The results show that there is considerable overlap between annotated fields explicitly discussing the protocol and those mentioning a reagent kit; i.e. 23,288 of all experiment level records (5.55%) annotated for all protocol steps also contained the keywords "reagent" or "kit", and this partitions across 2,055 (6.94%) top-level SRA studies.
Annotation of protocol steps in the metadata: significant variation in how this is stored at the experiment record level
We further examined the storage of annotation in the
experiment
records meeting our minimum standard (i.e. having annotations for all three protocol steps). This revealed significant variation in the metadata stored for a given study (see Figure
3
). In the SRA, the number of experiment records associated with a given top-level study can vary from a single
study
with one
experiment
record, to a single
study
with 15,548
experiment
records (i.e. there are many studies with few experiments, and few studies with many experiments). A study was non-conservatively considered as being annotated for
all three protocol steps
if
at least one
of its corresponding
experiment
records contained annotations for these three steps. The variation shows there are inconsistencies in how annotations are stored across multiple
experiment
records for a given
study
. Given the potential to store redundant metadata, it is possible that in a study containing a small number of experiment records all may be annotated, whilst in a larger
study
containing many
experiment
records only one or a select few of these
experiment
records could be annotated.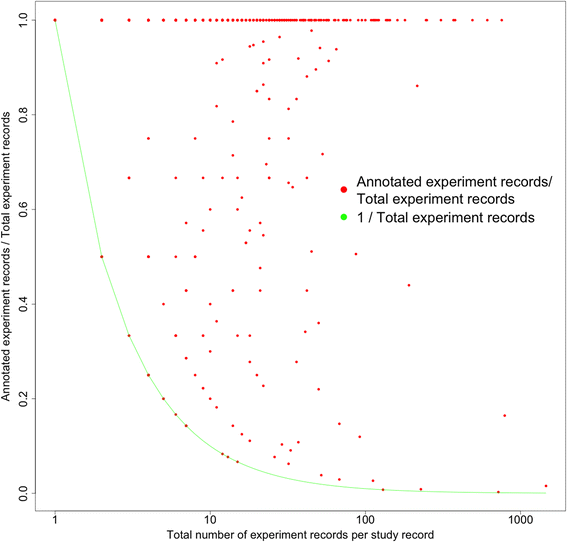 Discussion
From a variety of articles it is clear that potential biases may exist in next-generation sequencing data due to the preparatory protocols carried out on the samples before submission. It is important to understand the size of these biases in order to determine best practices and how they can affect issues such as the validity of comparative approaches in genomics using these data sets.
With this in mind, we have carried out a thorough study of the level of annotation of the initial protocol metadata deposited at the SRA. We have shown that the amount of annotation is very sparse with around 4% of the studies having keywords corresponding to all the steps relevant to the protocols. Around half of entries for experiments have a null (empty) entry in the fields where these data should be recorded.
In addition to the poor level of annotation as previously discussed, there are further issues associated with the metadata deposited in the SRA. Depositors are unclear about whether to provide annotation for all or some of the records at the experiment record level, therefore annotation is inconsistent. This is shown by the large variance in experiment fields having annotation in any individual study. We have also found practices such as the use of URLs to provide a link to the appropriate annotation (see Additional file 1). Accessing basic data such as date stamps is very difficult and appears to be stored inconsistently.
More seriously, the use of the free text within fields means that any large-scale computational survey of these metadata, beyond the use of simple keyword searches, would require advanced text-mining techniques.
Nakazato et al. undertook a study to constrain sequencing data by the submission accession link cited in publications; their rationale was that this constraint would yield only higher quality submissions to the SRA [33]. Although very useful, their approach to the issue of SRA meta-data is from a different perspective and stops short of examining the metadata content in the context of the types of biases that can result due to the protocol steps in the next-generation sequencing workflow, as we have done. However, their work corroborates our view: important metadata fields are free-text fields that are not amenable to efficient comparison.
As noted previously the SRA conforms to the MINSEQE specification [32]. This stipulates five essential components for submitting a high-throughput sequencing experiment, they are i) description of the biological system, samples, and the experimental variables under study ii) sequence read data for each assay iii) 'final' processed (or summary) data for the set of assays in the study iv) general information about the experiment and sample-data relationships and v) Essential experimental and data processing protocols. The fifth component in particular, essential experimental and data processing protocols, concerns the discussion in this paper. Nonetheless, SRA protocol data is not amenable to automated methods due to the use of free-text fields and the absence of a more structured approach to recording important experiment protocol information. Depositors are likewise not obliged to complete this information.
Given the size of the data sets being deposited in the SRA, it is unfortunate that more strictly enforced guidelines on these metadata have not been provided, along with the use of agreed vocabularies and ontologies. A more structured approach to metadata deposition would allow a deeper analysis and hence the examination in much more detail of the source of these biases, along with the quality issue raised by Nakazato et al. above. These data would ideally be represented via an ontology that is tailored towards protocols, and submitters would be obliged to fill out such data. A less elaborate, though still helpful, approach would be to oblige submitters to refer to the manufacturer's reagent kit via a specific field with fixed values. Likewise, a clearer policy on the submission of protocol data at the study and experiment level would also avoid confusion.
Potential implications
The SRA is a huge resource of genomic and transcriptomic data; as of September 2010, more than 60 trillion base pairs were available for download [3]. In particular, this resource should be invaluable for comparative genomics and meta-analyses. However, as demonstrated there is currently a major shortfall in the level of annotation provided for key protocol steps. To enable a wider and more comprehensive use of these resources the community should engage with the SRA to provide these details. The community and archives at NCBI, EBI and DDBJ need to work together to tighten the requirements for metadata submission by making protocol steps mandatory, and through the use of controlled vocabularies.
Methods
Metadata for sequence read DNA sequencing data in the SRA public repository [3] was acquired from the Bioconductor project in SQLite format [36]. The metadata extraction timestamp was 2013-12-03. The data set and SQL scripts supporting the results of this article are available in the GigaDB repository [37].
Selecting appropriate fields for annotation of protocol steps
The SRA documentation [34] was utilised, in particular a metadata developer documentation table containing a list of fields and descriptions of the information to be stored. This table was used to determine the fields that would be most appropriate to probe for metadata annotation using the structured word lists (Table 2).
SRA XML DTD and SRAdb SQLite differences
The SRAdb SQLite database package produced by Bioconductor was utilised for this paper. In order to ensure that the SRAdb is a good proxy for the underlying NCBI SRA XML data, all fields from both the Bioconductor SRAdb SQL schema and NCBI SRA XML fields were extracted into separate text files for each SRA table. Each field from the NCBI XSD XML schema was then tested for its presence (or absence) in the corresponding Bioconductor SRAdb SQL table.
Three fields were found in the XML data that are not mapped to SRAdb SQLite and may contain further protocol data: Library_Descriptor, Sample_Attributes and Submission_Attribute. However, on further inspection, these fields are either deprecated (Library_Descriptor), store only biological sample data (Sample_Attributes), or carry data about the actual submission (Submission_Attribute).
Probing free-text fields for annotation of protocol keywords
In the absence of greater structure in the fields, a structured word list relevant to the fragmentation, enrichment and adapter-ligation protocol steps was constructed. This word list is shown in Table 1. The metadata table and column descriptions from the SRA developer documentation were used as a guide to select appropriate fields, and were inspected using SQL queries to quantify the number of records appearing to be annotated for a given protocol step. Occurrences in the field under inspection of one or more of the words in the list for a given protocol step were recorded. There is substantial overlap between the terms from the different lists, as shown in Additional file 1: Figure S1.
Aggregating data over experiment records
Metadata from an Experiment record are directly associated with an individual set of sequence data deposited at the SRA. However, as noted in Reagent kit data section, metadata deposited in one or some subsets of Experiment records may in fact represent equivalent metadata for all the Experiment records of a given Study. In order to investigate this, the relevant fields of all the Experiment records for every given Study record were aggregated. Searches for the keywords outlined above were repeated. Any hits in the above lists were treated as evidence of metadata for the protocol steps for the entire study.
Availability and requirements
Project name: Investigation into the annotation of protocol sequencing steps in the Sequence Read Archive SQL scripts

Project home page: https://github.com/gigascience/paper-alnasir2015

Operating system: Any supporting SQLite3

Programming language: SQL

Other requirements: Bioconductor SRAdb SQLite database

License: GPL v3.
Availability of supporting data
The data set and SQL scripts supporting the results of this article are available in the GigaDB repository [37].
Abbreviations
DDBJ:

DNA data Bank of Japan
EBI:

European Bioinformatics Institute
GEO:

Gene Expression Omnibus
INSDC:

International Nucleotide sequence database collaboration
MAGE-ML:

Microarray gene expression markup language
MIAME:

Minimum information for a micro-array experiment
MINSEQE:

Minimum information about a high-throughput sequencing experiment
NCBI:

National center for biotechnology information
SQL:

Structured query language
SRA:

Sequence read archive
XML:

Extensible markup language
Declarations
Acknowledgements
This research was made possible by a Crossland Research Scholarship from Royal Holloway, University of London to Jamie Alnasir. We thank the referees, Jack Zhu and the NCBI SRA support team for their comments and advice.
Authors' Affiliations
(1)
Department of Computer Science, Royal Holloway, University of London, Egham, UK
Copyright
© Alnasir and Shanahan; licensee BioMed Central. 2015
This article is published under license to BioMed Central Ltd. This is an Open Access article distributed under the terms of the Creative Commons Attribution License (http://creativecommons.org/licenses/by/4.0), which permits unrestricted use, distribution, and reproduction in any medium, provided the original work is properly credited. The Creative Commons Public Domain Dedication waiver (http://creativecommons.org/publicdomain/zero/1.0/) applies to the data made available in this article, unless otherwise stated.