Research
Open Access
Open Peer Review
This article has Open Peer Review reports available.
Ultra-deep sequencing enables high-fidelity recovery of biodiversity for bulk arthropod samples without PCR amplification
Received: 19 December 2012
Accepted: 1 March 2013
Published: 27 March 2013
Abstract
Background
Next-generation-sequencing (NGS) technologies combined with a classic DNA barcoding approach have enabled fast and credible measurement for biodiversity of mixed environmental samples. However, the PCR amplification involved in nearly all existing NGS protocols inevitably introduces taxonomic biases. In the present study, we developed new Illumina pipelines without PCR amplifications to analyze terrestrial arthropod communities.
Results
Mitochondrial enrichment directly followed by Illumina shotgun sequencing, at an ultra-high sequence volume, enabled the recovery of Cytochrome c Oxidase subunit 1 (COI) barcode sequences, which allowed for the estimation of species composition at high fidelity for a terrestrial insect community. With 15.5 Gbp Illumina data, approximately 97% and 92% were detected out of the 37 input Operational Taxonomic Units (OTUs), whether the reference barcode library was used or not, respectively, while only 1 novel OTU was found for the latter. Additionally, relatively strong correlation between the sequencing volume and the total biomass was observed for species from the bulk sample, suggesting a potential solution to reveal relative abundance.
Conclusions
The ability of the new Illumina PCR-free pipeline for DNA metabarcoding to detect small arthropod specimens and its tendency to avoid most, if not all, false positives suggests its great potential in biodiversity-related surveillance, such as in biomonitoring programs. However, further improvement for mitochondrial enrichment is likely needed for the application of the new pipeline in analyzing arthropod communities at higher diversity.
Keywords
Next-generation-sequencingSpecies richnessAbundanceBiomonitoringInsect biodiversityMitochondriaPCR-independentMetabarcoding
Background
Given the increasing needs for assessing habitat quality and conserving natural bio-resources, biodiversity composition and its temporal and spatial variations have been evaluated systematically using standardized protocols [1, 2]. National biomonitoring programs have been established globally, such as in the United States, United Kingdom, Australia and Canada [3–6]. Although specific protocols and sampling scales vary across nations, tens of thousands of sampling sites are collected multiple times a year, through which millions of biological specimens are routinely collected, preserved, identified and statistically analyzed [7]. This biological information is used by environmental agencies as the scientific basis for decision-making [2, 3, 5, 8]. However, the major impediment to this application has been the limited capacities in morphological identification of taxonomic diversity for large volumes of biological samples in an accurate and high-throughput manner [9]. Although many diversity analyses employed in biological assessments are of high-quality and credibility, the limited identification capacity may lead to coarse diversity resolution [10], inconsistent taxonomic delineation across individual researchers and institutes [11], much reduced sampling scale [7], and extended turn-around time in routine sample processes [12].
DNA barcoding, which utilizes a standard gene fragment for species identification, has been widely used to facilitate biodiversity and ecological studies [13]. When the classic DNA barcoding approach, which is optimized based on individual Sanger sequencing, is coupled with next-generation-sequencing (NGS) technologies, the combined method, metabarcoding[14], shows even greater potential in unveiling molecular characteristics of the entire fauna or flora in question. In particular, metabarcoding has enabled sophisticated analyses of biodiversity in varied environments, ranging from deep-sea meiofauna [15] to terrestrial insects collected by Malaise traps [16], while the majority of studies have focused on microbial communities [17, 18]. In addition to the ability to reveal diversity for mixed biological samples, NGS platforms are capable of high-throughput sequencing [19, 20] with short turn-around time (e.g., 24 hours for the Illumina MiSeq and Roche 454 GS FLX + sequencers).
In nearly all published works, NGS analyses of biodiversity usually involve DNA extraction of bulk samples (mixtures of co-occurring taxonomic groups), PCR amplification of targeted genetic markers, and NGS analysis for taxonomic composition (Figure
1
). PCR amplification of targeted genes is employed as the sole approach to acquiring sufficient barcode sequences that are used for species identification. An inherent drawback to this approach is that primers designed to amplify the full range of taxa presented in the bulk sample are rarely "universal", with different amplification efficiencies in varied organisms [
21
–
28
]. Although much effort has been made to increase the universality of primer sets [
29
–
32
], it is difficult to predict the performance of primers when the investigated fauna is largely unknown. As a result, it seems to be impossible to completely eliminate the taxonomic biases introduced by PCR. In addition, our recent work (unpublished data) found that amplification errors (such as mismatches to the template DNA) propagated during PCR could be readily detected by the highly sensitive NGS technology, therefore increasing the ratio of false positives – which is potentially one of the major causes of what is commonly known as "biodiversity inflation" or "false positives" found in nearly all published NGS analyses of biodiversity [
16
,
33
]. Furthermore, the success of PCR amplifications is also influenced by the nucleotide composition and secondary structure of the DNA templates. For instance, homopolymers – a long strain of identical nucleotides arranged in tandem, present a challenge for the polymerase to pass through. If these nucleotide characteristics are taxon specific, amplification efficiency will create taxonomic biases despite primer optimization. The DNA barcoding of subgroups of Hymenoptera presents a notoriously difficult example where poly-Ts are commonly found in regions of the
Cytochrome c Oxidase subunit 1
gene (
COI
) barcodes. This characteristic has led to low success in the acquisition of both full-length barcodes [
34
,
35
] and in taxonomic detection for a large portion of Hymenoptera in recent NGS biodiversity analyses [
16
]. Lastly, once PCR is included in the NGS analytical pipeline, abundance information of each of the member taxon in the community will be inevitably lost. Although some correlation of NGS reads and taxonomic abundance has been shown in mixed nematode samples [
36
] and diet analyses [
37
,
38
], such success will largely depend on the phylogenetic diversity of taxa in question and the performance of primers applied, which is challenging for most animal groups used as biological proxies (e.g., macroinvertebrates). Protocols such as DNA capture and environmental DNA shotgun sequencing have been proposed by Taberlet et al. [
39
] to bypass PCR. Some preliminary work also showed the feasibility of applying this approach on eukaryotic diversity [
40
]. But systematic metabarcoding studies on real eukaryotic communities that are independent of PCR are lacking.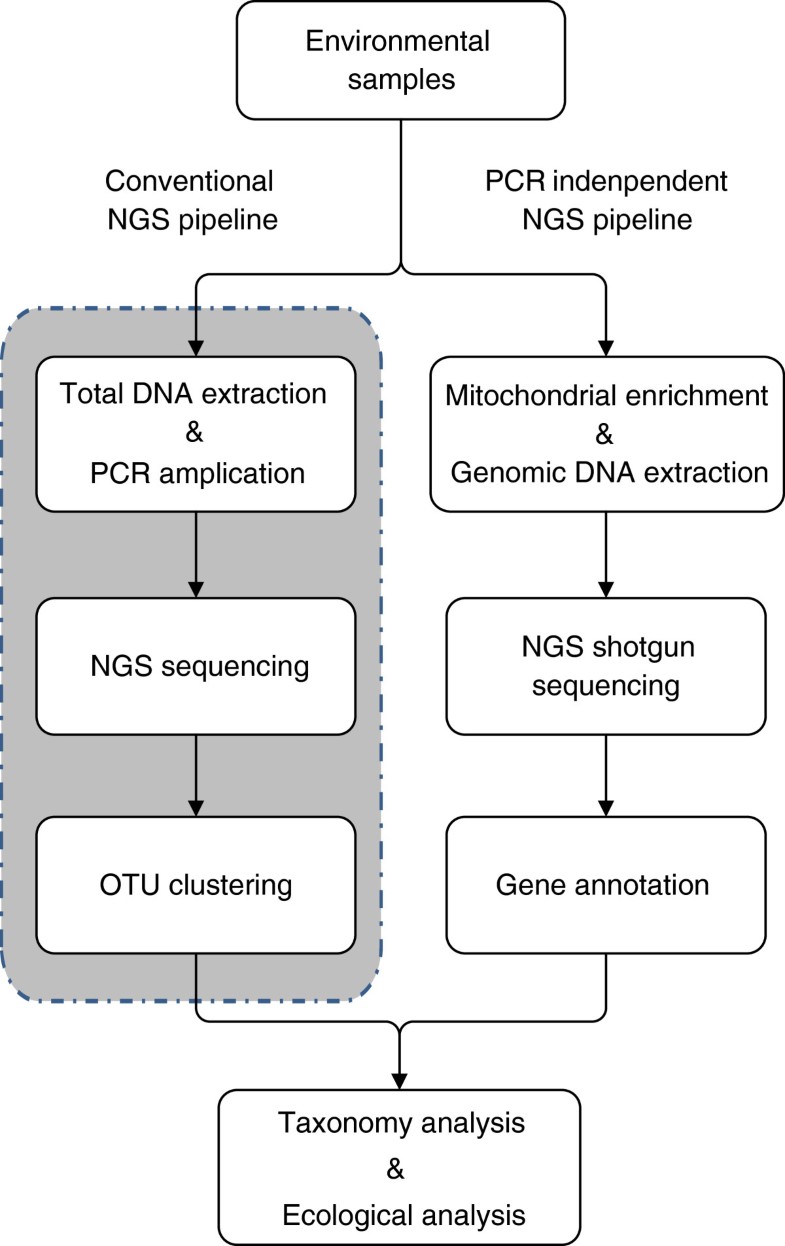 In this study, we aim to develop a new NGS pipeline that is independent of PCR amplifications (Figure 1), while still enabling molecular identification of insects at the species level, using bulk insect samples for the proof of concept. Two major challenges for the complete elimination of PCR amplification need to be resolved first: (a) detection of target DNA sequences at low quantity and (b) taxonomic assignment based on short NGS reads. A 650 bp sequence fragment on the 5′ end of the mtCOI gene has been widely adopted as the DNA barcode region for identifying animal species since its initial proposal [13]. Although mitochondria are found in vast copy numbers in metazoan animals, mitochondria (MT) nucleotides only account for a small fraction of the total DNA compared to nuclear sequences (e.g., 0.05% in Bombyx mori[41]) and sequences of microbial origin in the DNA soup. The ultra-deep sequencing capacity of the Illumina sequencing platform provides an opportunity to examine the feasibility of detecting minute trace of mitochondrial sequences directly from genomic DNA mixtures. For example, each sequencing run of the HiSeq 2000 sequencer is able to produce approximately 600 Gbp, equivalent to 200 human genomes, which is more than 1,000X as much as the capacity of the Roche 454 GS FLX + platform (see review [20]). On the other hand, the current Illumina sequence reads for HiSeq 2000 can only reach up to 150 bp. This short sequence length presents a limitation to the full utilization of full-length DNA barcodes (approximately 650 bp for animal COI barcodes) available globally (e.g., through the International Barcode of Life initiative [42]). Although a very short piece of the standard barcodes ("mini-barcode") of only 130 bp demonstrated reliable taxonomic resolution for a number of animal groups [43], longer sequences are always preferred for improved identification power. Therefore, we need informatics solutions to assign species-level identity based on mixed short Illumina reads.
To overcome these two major hurdles, the new pipeline employed in the current study involves pre-sequencing enrichment of mitochondria followed by total DNA extraction, shotgun sequencing of isolated total DNA using the Illumina HiSeq 2000, and taxonomic identification of NGS reads. Two different approaches can be applied to assign species-level identity: (1) if an a priori barcode reference library exists for the investigated fauna, NGS reads are mapped to the reference sequences following defined criteria; and (2) when this reference library is absent, de novo assembly of NGS reads into mitochondrial gene fragments, especially the COI barcode region, is employed, followed by gene annotation, to ensure accurate detection of taxa from the mixed bulk sample. Based on the promising results from our in silico simulations using 209 insect mitochondrial genomes obtained from GenBank (details of the design and results of the simulation are provided in Additional file 1: Appendix S1), we apply the new Illumina pipeline to analyze real bulk insect samples. A preliminary study was first performed to gain a basic understanding for the required scale of Illumina sequencing. Details were summarized in Additional file 2: Appendix S2. A formal sample was subsequently sequenced and analyzed with ultra-high sequencing volume (15.5 Gb) to systematically test and discuss this NGS pipeline on biodiversity study in the following text.
The main question of the present work is: can PCR amplifications be avoided in analyzing arthropod biodiversity using the Illumina HiSeq 2000 platform? Specifically, we focus on: (1) how much Illumina sequencing is required with regards to a reliable estimation for species composition from bulk insect samples at a given species setting and (2) what informatics tools can facilitate such analysis? To answer these questions, we use an empirical approach to evaluate the accuracy of species composition estimates (quantifying true positives, false negatives, and false positives). We also measure the impact of two analysis strategies (i.e., the presence or absence of a reference barcode library) for the focal fauna on taxonomic discovery. Additionally, exploiting another potential benefit of abandoning PCR amplifications, we explore the indication for relative abundance of each taxon present in the bulk sample. Lastly, we discuss the pros and cons of this new pipeline and provide suggestions for potential improvements to achieve its real-world application.
Data description
Seventy-three insect individuals were collected from a mountainous habitat in the sub-tropical region of China (22°36′01.38"N, 114°16′00.76"E, approximately 340 m above sea level [ASL]) on October 5th 2011 and preserved in 99.5% ethanol at 4°C for one month. Every individual was identified morphologically by authors of the paper to the finest taxonomic level as much as possible. Genomic DNA was first extracted from a single leg of each specimen for DNA barcoding. Standard COI barcodes for all specimens were individually Sanger sequenced and compared against the Barcode of Life Data Systems for taxonomic confirmation. Subsequently, after mitochondrial enrichment using differential centrifugation, total genomic DNA was extracted from homogenized tissues for mixed insect sample. The DNA library of an insert size of 200 bp was constructed for the bulk sample and then sequenced on an Illumina HiSeq 2000 analyzer at BGI (Shenzhen, China) using 100 bp paired-end (PE) sequencing, following the manufacturer's instruction. The DNA library was analyzed using an ultra-deep sequencing strategy (approximately 15.5 Gb) to examine the impacts of sequencing volume on biodiversity recovery.
Sequences containing adaptor contaminations (with > 15 bp matched to the adapter sequence) and poly-Ns were filtered out. PE reads were removed from subsequent analyses if >10 bases were of low quality scores (<20, i.e., sequencing error rate > 1%). A new dataset containing only high-quality reads was created after these filtering steps, and is available from the GigaScience Database [44].
Discussion
Ultra-deep sequencing enables detection for small trace of mitochondrial sequences
NGS technologies have been employed in biodiversity analyses for varied environments, with proposed advantages in throughput and cost. However, most of these studies have been based on PCR amplifications, especially in eukaryotes, which typically possess large-sized genomes. Although the incorporation of PCR amplifications has the obvious advantage in producing sufficient amplicons of the targeted gene fragments, such practice often introduces taxonomic biases due to varying primer efficiencies across taxa and sequence errors caused by mismatches of complementary strains to the DNA templates [7, 21, 23, 26, 28, 47]. The main challenge in reducing these biases by eliminating PCR is to ensure that the community diversity can be accurately measured through the small amount of mitochondrial sequences in the mixed DNA soup. In this study, this objective is achieved through mitochondrial enrichment and deep sequencing.
The mitochondrial enrichment protocol employed in this study clearly has room for improvement. The whole enrichment procedure yielded mitochondrial DNA accounting for only 0.53% of the total raw data (15.5 Gb), which was approximately 10X higher than the original judging by the corresponding MT sequence proportion found in the silk worm (0.05% [41]). A much smaller percentage (0.03%) belonged to COI genes. However, even with this small fraction of the total sequence data, 74% of the total mitochondrial genomes presented in the bulk sample had been successfully assembled, while 96% of the total COI sequences had been covered (Table 1) – a clear benefit of the deep sequencing capacity of Illumina's HiSeq 2000 sequencer. This minute proportion of mitochondrial sequences contains almost 5 million base pairs of high-quality data belonging to COI genes, equivalent to >7,000 full-length DNA barcodes, which is almost comparable to the total raw data capacity of an entire 454 run. On average, each of the 37 member species in the insect community has been covered by more than 200 full-length barcodes equivalence of sequence reads. It is this high sequence coverage that has ensured species recovery at high accuracy.
PCR-independent method delivers species recovery at high fidelity
These COI sequences detected by our NGS pipeline enabled recoveries for 97% (with a reference barcode library) and 92% (without reference) of the total taxa in the bulk insect sample. To our knowledge, these results represent the highest rates of "true positive" discoveries in all published NGS analyses for arthropod diversity that has a controlled reference.
All taxa missed by the NGS pipeline (false negatives) are characterized by low biomass and are subsequently covered by only low sequencing depth. Only 1 and 3 taxa were not detected by the reference-based and reference-independent methods, respectively. All missed specimens had a body length < 5 mm (Additional file 3: Figure S5).
Our pipeline, which eliminates PCR amplification, rarely picks up novel taxa, and thus avoids the "taxon inflation" common to other NGS-based biodiversity assessments [16, 33]. Only 1 detected taxon identified molecularly as Lepidoptera was found absent in the reference barcode library. Based on its good assembly quality (yet low read coverage) and highly congruent amino acid sequence composition compared to lepidopteran barcodes in BOLD, we argue that this novel sequence is not a real 'false positive'. The exact source for this 'novel taxon' is unclear, but possibilities might include gut content, undetected tissue (damaged pieces, eggs, small body-size, etc.) in the insect mixture, environmental DNA and so on. The extremely low rate of novel taxa is due to the stringent algorithm involved in the matching criteria based on sequence coverage (reference-based) and de novo assembly of Illumina shotgun reads (reference independent), which eliminates nearly all sequence errors.
A potential way to obtain relative abundance?
The correlation between sequencing volume (the number of nucleotides) and biomass of a given species has not only produced biological production information of the insect community, but also provided a possible solution to investigating relative abundance of each arthropod taxon present in the bulk sample. This possibility relies on the availability of a reference barcode library for the focal fauna and a database for the range of biomass of each of the arthropod species in this fauna. Presumably, the number of individuals of a given species can be estimated by the total biomass – that was calculated from the total nucleotide base pairs of this species – divided by an average biomass of the target species. Apparently, a well-designed test, including a wider range of taxa with varied biomasses, is needed to draw solid conclusion on the feasibility of this approach, which is beyond the scope of this paper. Nevertheless, our new NGS protocol, especially the elimination of PCR amplifications, has created an alternative way to quantify abundance (although as a statistical estimation) – the critical information concerned in ecological studies.
Further improvements for applications in real-world scenario
Admittedly, the insect bulk sample tested in the present study only represents biodiversity examples at a moderate level. Although our diversity scale is comparable to some recent work (e.g., [33, 48]), community samples consisting of more complex components (e.g., more than hundreds of species from wider taxonomic ranges) can be expected in many real-world sampling efforts. Nonetheless, our work provides an invaluable first-hand knowledge on the requirement of sequencing volume when PCR is avoided. Based on our findings in the correlations between sequencing volume and discoveries of MOTU and biomass (Figure 3), a simple extrapolation suggests that it may require multiple lanes of Illumina HiSeq data to handle bulk insect samples containing hundreds of species. Therefore, a more efficient mitochondrial enrichment procedure is desired to enlarge the sampling capacity per Illumina lane. Provided that the current sequencing cost for Hiseq 2000 (based on the list price from the manufacturer) is approximately $40 per gigabase, the sequence yield per run is 600 Gb [49], and the sequencing volume needed to reveal insect richness from bulk samples (based on empirical data of this paper), we calculate the average cost for discovering a single insect species is less than $20. This cost is already very close to that of classic DNA barcoding of an individual specimen using Sanger sequencing. Given the trajectory of NGS cost reduction over the past years, it is reasonable to expect wide adoption of a PCR-free Illumina shotgun approach in routine biodiversity studies.
Furthermore, alternative protocols for DNA preservation and mitochondrial isolation are expected to greatly increase the portion of mtDNA sequences in the total DNA sample, which can be translated into less sequencing and lower cost. Preservation media, such as DESS [50], that help to maintain the integrity of mitochondria and circular DNA, coupled with enzymes digesting linear DNA may help to vastly remove nuclear and even bacterial DNA. A DNA-capture-based method might perform better for small volume of targeted DNA [51]. While our mitochondrion enrichment protocol is able to handle specimens preserved in ethanol for 1 month, a DNA-capture-based method might be more appropriate for older specimens with more highly degraded DNA. For bulk samples containing arthropods with a large range of body sizes, a pre-sorting of large samples from smaller ones followed by sub-sampling and re-mixing (tissue normalizing) should help to improve the detection of small individuals, given the total sequencing volume remains at the same level.
It is also clear that a comprehensive DNA barcode library and a genomic database in general will significantly improve our analytical efficiency in the NGS analysis for biodiversity composition. These databases will not only improve species detection rates (reference based vs. reference independent methods) for arthropods, but also help to reach a better understanding of the presence of the much broader diversity (e.g., algae, bacteria, virus) in the bulk sample.
In summary, the ultra-high sequencing capacity of the Illumina HiSeq 2000 platform provides a new NGS solution that avoids the use of PCR amplifications of particular gene markers in arthropod biodiversity analysis. This new pipeline not only reveals species richness in high fidelity, but also creates a possibility to reveal relative abundance of each taxon present in the bulk sample. The ability to detect small arthropod specimens and its tendency to avoid most, if not all, false positives has suggested its great potential in biodiversity related surveys, such as in biomonitoring programs. However, it is crucial to improve mitochondrial enrichment to ensure applications of the new NGS pipeline in analyzing more complex biodiversity settings.
Availability of supporting data
Abbreviations
ASL:

Above sea level
bp:

Base pair
COI:

Cytochrome c oxidase subunit 1
mt:

Mitochondria
MOTU:

Molecular operational taxonomic unit
NGS:

Next generation sequencing
NJ:

Neighbor joining
OTU:

Operational taxonomic units
PE:

Paired end
PCR:

Polymerase chain reaction.
Declarations
Acknowledgements
This study is supported by the National High-tech Research and Development Project (863) of China (2012AA021601), by grant to Shenzhen Key Laboratory of Environmental Microbial Genomics and Application, and by funding provided by the China National GeneBank and BGI. We thank Zheng Huang of BGI for her assistance in preparing the figures. We also thank the editors and three reviewers for their comments.
Authors' Affiliations
(1)
BGI-Shenzhen, Beishan Industrial Zone, Shenzhen, China
(2)
China National GeneBank-Shenzhen, Yantian District, Shenzhen, China
(3)
Shenzhen Key Laboratory of Environmental Microbial Genomics and Application, Shenzhen, China
Copyright
© Zhou et al.; licensee BioMed Central Ltd. 2013
This article is published under license to BioMed Central Ltd. This is an Open Access article distributed under the terms of the Creative Commons Attribution License (http://creativecommons.org/licenses/by/2.0), which permits unrestricted use, distribution, and reproduction in any medium, provided the original work is properly cited.