Review
Open Access
Open Peer Review
This article has Open Peer Review reports available.
Tissue sampling methods and standards for vertebrate genomics
Received: 8 March 2012
Accepted: 12 July 2012
Published: 12 July 2012
Abstract
The recent rise in speed and efficiency of new sequencing technologies have facilitated high-throughput sequencing, assembly and analyses of genomes, advancing ongoing efforts to analyze genetic sequences across major vertebrate groups. Standardized procedures in acquiring high quality DNA and RNA and establishing cell lines from target species will facilitate these initiatives. We provide a legal and methodological guide according to four standards of acquiring and storing tissue for the Genome 10K Project and similar initiatives as follows: four-star (banked tissue/cell cultures, RNA from multiple types of tissue for transcriptomes, and sufficient flash-frozen tissue for 1 mg of DNA, all from a single individual); three-star (RNA as above and frozen tissue for 1 mg of DNA); two-star (frozen tissue for at least 700 μg of DNA); and one-star (ethanol-preserved tissue for 700 μg of DNA or less of mixed quality). At a minimum, all tissues collected for the Genome 10K and other genomic projects should consider each species' natural history and follow institutional and legal requirements. Associated documentation should detail as much information as possible about provenance to ensure representative sampling and subsequent sequencing. Hopefully, the procedures outlined here will not only encourage success in the Genome 10K Project but also inspire the adaptation of standards by other genomic projects, including those involving other biota.
Keywords
Genome 10KSequencingVertebratesGenomicsTissue samplingTissue storageCell lineTissue cultureRNADNA
Review
Advances in sequencing technology over the last decade [1–3] have made it feasible to acquire a database for genomes of 10,000 species of vertebrates, analogous to the Human Genome Project. The Genome 10K Project (G10K), which proposes to catalogue whole-genome sequences across living mammals, birds, non-avian reptiles, amphibians, and fishes, will reveal the complex genomic architecture governing the physiology and development of closely and distantly related species [4]. Documenting the dynamic variation of species in a manner permitting detailed comparative genomic and genetic analyses will provide invaluable insight into the fundamental principles driving species' adaptation to ecological and environmental interactions [5–7]. In this regard, the "Genomics Era" [7] holds promise for new population-genomic approaches to intraspecific biogeography [e.g., [8, 9]] and population genetics [e.g., [10, 11]] that are imperative to effective biodiversity conservation across species [5, 6, 12–14]. The process of sequencing, assembling, interpreting, and applying information using whole-genome approaches is starting and quickly building momentum.
As a first step, the G10K Community of Scientists [4] proposes to assemble a collection of tissues and DNA samples representing 10,000 extant vertebrate species. This biospecimen collection will be increasingly valuable the more it is able to standardize procedures for collecting, transporting, and storing high-quality tissue samples. This process, which applies to all genomics projects, is remarkably complex and daunting, especially because many of the existing tissue collections have a history of development, preservation, and storage for different purposes. Many potential resources are not suitable given the requirements of current sequencing and assembly technologies, generally because of insufficient yields of high molecular weight DNA from ethanol-preserved or improperly frozen tissue samples.
Proper collection and preservation of tissues across vertebrate species is fundamental to establishing cell cultures and isolating nuclear and mitochondrial DNA, RNA, and potentially proteomes suitable for genomics, as these materials are susceptible to rapid post-mortem degradation or degradation following tissue-sampling from living specimens. High-quality DNA will facilitate de novo assemblies of whole genomes, while viable cell cultures and RNA will be critical for experimental molecular and cell-based investigations, physical mapping of genes onto chromosomes (e.g., fluorescence in situ hybridization, radiation hybrid mapping, chromosome flow sorting), transcriptome analyses, and annotation. The standards of material collected for G10K and other projects will vary according to the exigencies of collecting specimens, including ease and method of capture, availability of specimens, feasibility, tissue type, and target quantity and quality. G10K, its contributors, and other researchers will benefit from adopting standardized methods that correspond to their goals of collection. Therefore, we propose standards for sample collection to facilitate and, more importantly, motivate the highest quality, and most broadly useful and valuable samples possible. We also review a range of issues related to selection and documentation of the individual sampled animals including some pertinent legal and ethical considerations.
To help standardize and assess the quality of tissues collected, we propose four categories for classifying the utility of tissues and DNA being prepared and reserved for G10K and similar projects:
Four-star (****): sufficient flash-frozen tissue or immediate extraction of DNA for a minimum of 1 mg of DNA (e.g., enough DNA for at least two whole-genome sequencing attempts) validated by DNA barcoding; multiple tissues suitable for RNA sequencing and transcriptome analysis; and viably frozen tissue pieces and/or cell lines;

Three-star (***): frozen tissue for a minimum of 1 mg of DNA and multiple tissues suitable for RNA sequencing and transcriptome analysis;

Two-star (**): frozen tissue for 700 μg of DNA; and

One-star (*): ethanol-preserved tissue for 700 μg DNA of high or mixed quality (some highly or slightly degraded) and DNA of insufficient quantity (< 700 μg), but of possible value in supplementing whole-genome sequencing efforts of higher quality samples.
These standards have significant implications for the quality and quantity of data for future projects on de novo vertebrate genomics. The following text details methods for tissue acquisition and preservation in light of these four standards. At and below the * standard, attempts at producing whole genome sequences are not likely to meet with success without reference genomes and notably greater expense.
A priori considerations
Optimal techniques for acquiring ****, ***, **, and * samples will vary according to species, sex, geographic diversity, and population diversity across the major vertebrate groups [4]. It is critical to consider the individual history of each specimen in order to maximize a reliable yield of tissue, DNA, and RNA. For some species (e.g., mammals and birds), blood may be a source of genetic material, whereas whole specimens may be required to obtain sufficient quantities of DNA in others (e.g., amphibians and non-avian reptiles). At a minimum, the feasibility of each procedure will depend on budget, transport, availability, health of the source-specimen, and the extent of degradation prior to or after sample collection. Appropriately, tissue collection should include back-up procedures (e.g., multiple samples, back-up power supply for freezers, multiple copies of appropriate documentation) whenever possible while minimizing all safety risks, as with any experimental design.
Apart from sample standards, documentation and archiving of permits held by every provider is mandatory for all material collected for G10K. We encourage this for other projects and below consider this universality to be implicit in all references to G10K. Given difficulties in using available museum collections, it will be necessary to acquire fresh material, especially for **** and *** samples. Consequently, all relevant permit and license applications should be prepared and submitted well in advance of tissue collection to allow for review and processing time. Approved written animal care (use) protocols may be necessary from, for example, an Institutional Animal Care Use Committee (IACUC) or Animal Care Committee (ACC), and in some cases animal health permits will be required. All procedures must conform to institutional, local, state, and/or federal guidelines [e.g., [15–19]].
Many countries including the United States are signatories on the "Nagoya Protocol on Access to Genetic Resources and the Fair and Equitable Sharing of Benefits Arising from their Utilization to the Convention on Biological Diversity", promoting genetic research toward conserving biological diversity [[20], see [21] for text]. Accordingly, equal access and benefit-sharing should be ensured, in addition to complying with regulations protecting general public health, domestic crops, and livestock or control of trafficking of listed species [e.g., [17, 22–25]]. In many countries including the United States, Canada, China, Vietnam, and Mexico, research within national parks, nature reserves, marine conservation areas, historic sites or landmarks requires additional research permits (e.g., see [17] for Australia, [26] for USA, [27] for Canada, and [28] for New Zealand). In some cases, research licenses may apply to particular territories (e.g., Nunavut, Canada) or cultural permission may be necessary; for example, consultation with the Maori of New Zealand is requisite for sampling wildlife that may lead to cultural sensitivity [29]. It is necessary to acquire permission for sampling natural populations from the appropriate fish, wildlife, forestry, conservation, and other offices.
Permits and licenses may also be necessary for import and/or export (e.g., [30]; for a list of permits see [31] for Australia, [32] for Canada, [33] for New Zealand, and [34] for USA). These constraints can depend on taxon and country. For example, in Canada, a "Permit to Import Material of Animal or Microbial Origin from Agriculture and Agri-Food Canada" is required for imports and exports of many but not all vertebrate groups [23]. Prior to air travel, check all potential specimens or chemicals for classification as "Restricted Articles" (may not be carried as checked or hand-carried baggage on commercial aircraft) by the International Air Transport Association (IATA) and appropriate "Shippers Declaration for (Non) Dangerous Goods" certificates should be acquired [35]; a list of potentially required documents is available [36]. Compliance with applicable regulations routinely requires declaration of all specimens to customs officials upon arrival after crossing borders. Many large laboratories or institutions and museums already have permits in place and have trained and experienced specialists; researchers are encouraged to seek their help and advice to streamline the permit application process.
Collecting tissues for G10K
Preserving tissues for G10K
All collected ****, ***, **, and * materials (e.g., tissues, nucleic acids, cell lines) should be stored in packages that prevent damage from UV, exposure to light, contamination, and the entry of other chemicals, including liquid nitrogen. Each package should allow enough room for tissue expansion during freezing while minimizing air pockets to prevent drying and degradation. We recommend using sterile Falcon tubes (15 or 20 ml) or plastic cryotubes with secure screw top lids for collection and subsequent storage in liquid nitrogen and freezers. Avoid tubes with pop-off lids; wrap smaller tubes in aluminum foil or place them into larger tubes [60]. Tissue can be stored in plastic bags within ultra-cold freezers for *** and ** standards. Labels should be inside the bag, not written on the outside or on a tag; the latter two can be lost or obliterated, removing the identity of the sample and rendering it useless. Plastic bags should not be stored in liquid nitrogen [60]. In cases of emergency, it is possible to make aluminum foil packages but fold them into air-tight packets in advance and transport flat [60]. Seal the tissues by additional wrapping in heavy-duty aluminum foil prior to storage in liquid nitrogen to avoid package bursting [60].
Preserve all tissues as soon as possible following collection to eliminate water [40] and minimize oxidative degradation or damage of the genomic materials. Whereas more time is necessary to degrade or damage nucleic acids, RNA can degrade rapidly within minutes [2]. For this reason, all preservation methods should consider storage time until the target materials are isolated. Effectiveness of preservation, especially critical for RNA and cell lines, can be enhanced by cutting tissue into small fragments to increase surface area [2, 40, 42, 43, 61, 62]. However, excess blending or homogenizing of tissue will lead to further degradation, especially of nuclear DNA [41]. We recommend storage of tissue by immediate freezing. Colder is better. The only exception is fresh biopsy specimens from which cell cultures are to be immediately established; for these specimens maintenance at 4°C—not colder—is appropriate. Secondary methods using preservatives such as ethanol or DMSO will yield varying results [43] and it is preferable to avoid them when possible. Techniques that involve minimizing desiccation, FTA® paper, Guthrie cards, vacuum packing, and household methods [40] are unlikely to work for genome-level sequencing.
Conclusions
The G10K project will attempt to follow the standards outlined herein (Table
1
; Figure
1
): **** (tissue stored in liquid nitrogen for at least 1 mg of DNA, isolated RNA and cell line/tissue cultures), *** (frozen tissue for at least 1 mg of DNA and isolated RNA), ** (frozen tissue for 700 μg DNA), and * (tissue preserved in ethanol for less than 700 μg DNA). We strongly encourage other vertebrate genomic initiatives to adopt this standard. Regardless of standard, it is imperative that all samples collected for G10K follow relevant legal requirements and regulations for their acquisition. The **** standard of tissue collection and preservation is preferred and this will likely require the acquisition of new materials. In contrast, the * standard may not be suitable for genomic-level sequencing given current technological constraints. However, * collections from rare species where sampling may be difficult will still be useful for initial whole-genome sequencing attempts. These guidelines can also be extended to projects focusing on invertebrates (e.g., i5K [
75
]), plants, and fungi through similar permit, transport, and storage procedures, and particularly considerations where species identification is difficult (e.g., barcoding and archiving procedures). However, some ethical considerations may not be relevant (e.g., animal use protocols in invertebrates are restricted to cephalopods) and specialized protocols for tissue collection (e.g., animals with smaller body sizes) and establishment of viable cultures (e.g., plants) may differ. Accordingly, quantity and quality standards should be established in a similar fashion (e.g. *, **, ***, and ****) at least for invertebrate, plant, and fungi groups. We hope that the methods and procedures discussed herein will not only foster initiatives toward the G10K project, but also contribute to a synchronized understanding of the genetic processes heretofore not available.
Table 1
Tissue standards ( italicized ) for vertebrate genomics corresponding to storage and quality of target materials (bolded)
| | Four-star | Three-star | Two-star | One-star |
| --- | --- | --- | --- | --- |
| DNA quantity | | | | |
| 1 mg | X | X | | |
| > 700 μg | | | X | |
| ≤ 700 μg a | | | | X |
| Target materials | | | | |
| Cell lines/tissue culture | X | | | |
| RNA | X | X | | |
| DNA | X | X | X | X b |
| Specimen type c | | | | |
| Live/freshly euthanized | X d | X | | |
| Salvaged | | | X | X |
| Voucher | | | X | X |
| Storage | | | | |
| RNAlater® | X | | | |
| DNAgard/DNAstable® | X | | | |
| ≤ −130°C | X | | | |
| ≥ −80°C | | X | | |
| ≥ −20°C | | | X | |
| Ethanol | | | | X |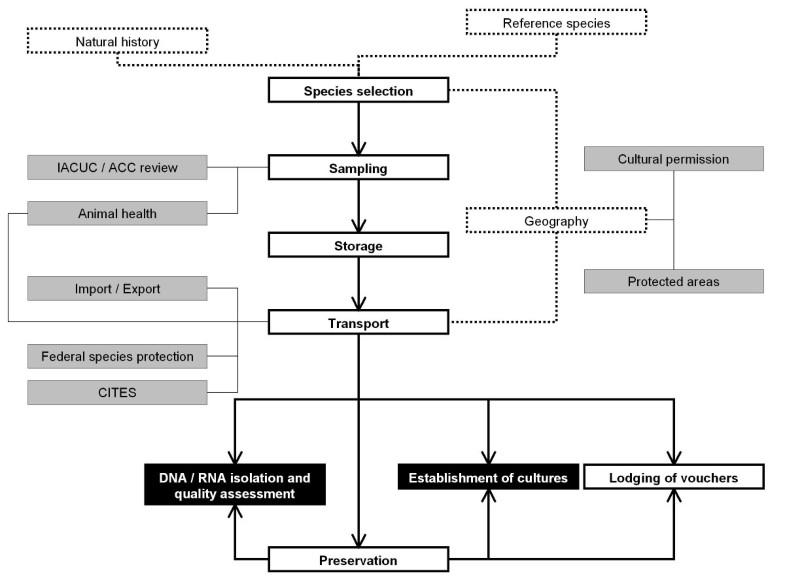 Authors' information
The G10K project has been coordinated by OAR, SJO, and DH: OAR and SJO are also General Policy Group and Mammal Group members and DH is also a General Policy Group and Analysis Group member. YPZ is a General Policy Group and Mammal Group member. WEJ is Committee Chair for the Mammal Group, and EOW and BV are Committee Co-Chairs for the Fish Group. BV is the Research Director of the Comparative Genomics Laboratory at the Institute of Molecular and Cell Biology, A*STAR, Singapore. RWM is a Committee Co-Chair for both the Amphibian Group and the Non-avian Reptile Group. KPK is a Cancer Research Training Award Fellow at the National Cancer Institute-Frederick and Manager of the G10K database.
Abbreviations
G10K:

(Genome 10 K)
****:

(Four-star)
***:

(Three-star)
**:

(Two-star)
*:

(One-star)
ACC:

(Animal Care Committee)
IACUC:

(Institutional Animal Care Use Committee)
IATA:

(International Air Transport Association)
PBS:

(phosphate buffered saline)
DMEM:

(Dulbecco's modified Eagle's medium)
MEM:

(minimum essential medium)
FBS:

(fetal bovine serum)
DMSO:

(dimethyl sulfoxide)
G10KCOS:

(Genome 10 K Community of Scientists).
Declarations
Acknowledgements
This research was supported by a Natural Sciences and Research Council of Canada Discovery Grant 3148 and by a Visiting Professorship for Senior International Scientists from the Chinese Academy of Sciences to RWM. This effort was also supported by the National Science Foundation Assembling the Tree of Life Grant DEB0732819 to EOW. The authors would like to thank R.E. Green and B. Shapiro for providing insight into G10K's sequencing initiative for extinct species. This project grew out of discussions by G10KCOS at the second G10K meeting held in Santa Cruz, California on 14–18 March, 2011.
Authors' Affiliations
(1)
Department of Ecology and Evolutionary Biology, University of Toronto, Toronto, Canada
(2)
Centre for Biodiversity and Conservation Biology, Royal Ontario Museum, Toronto, Canada
(3)
Division of Ichthyology, Biodiversity Institute, University of Kansas, Lawrence, USA
(4)
Laboratory of Genomic Diversity, National Cancer Institute, Frederick, USA
(5)
San Diego Zoo Institute for Conservation Research, Escondido, USA
(6)
Theodosius Dobzhansky Center for Genome Bioinformatics, St. Petersburg State University, St. Petersburg, Russia
(7)
Center for Biomolecular Science and Engineering, University of California Santa Cruz, Santa Cruz, USA
(8)
Laboratory of Animal Cytogenetics, Institute of Molecular and Cellular Biology, Novosibirsk, Russia
(9)
Reproductive Physiology, Toronto Zoo, ScarboroughOntario, Canada
(10)
Comparative Genomics Laboratory, Institute of Molecular and Cell Biology, Singapore, Singapore
(11)
Genome 10 K Community of Scientists, Santa Cruz, USA
(12)
State Key Laboratory of Genetic Resource and Evolution, Kunming Institute of Zoology, Chinese Academy of Sciences, Kunming, China
(13)
Laboratory for Conservation and Utilization of Bioresources, Yunnan University, Kunming, China
Copyright
© Wong et al.; licensee BioMed Central Ltd. 2012
This article is published under license to BioMed Central Ltd. This is an Open Access article distributed under the terms of the Creative Commons Attribution License (http://creativecommons.org/licenses/by/2.0), which permits unrestricted use, distribution, and reproduction in any medium, provided the original work is properly cited.